After one of the roughest years for consumer confidence on record, retailers are entering the golden quarter on less sure footing than ever.

Extended periods of record inflation have plagued 2023 – hitting a historic peak of 18.4% in May. As a result, 2023 has been a heavily promotional year for retailers across categories, as brands have been forced to slash prices to lure ever-more cash-conscious consumers to spend.
Like it first did in 2022, Amazon held a second period of Prime Day deals on October 10 and 11 this year, in addition to its summer Prime Day. While data has yet to be published from the October event, Prime Day sales in July nearly topped $13bn (£11bn) worldwide.
Total sales during Black Friday 2022 reached an estimated £12.3bn, up 8.3% year-on-year, according to Mintel. While the economic situation is even more dire this year compared to last, retailers are mostly quietly confident of enjoying a strong trading period.
Cash-strapped shoppers
UK consumer confidence fell nine points to -30 in October, according to the latest GfK Consumer Confidence Index. Perhaps most concerningly for retailers ahead of Black Friday, the major purchase index saw a 14-point fall to -24.
The latest Barclays Consumer Spending Report found shoppers are likely to hold off on making purchases this Black Friday, with only 13% of consumers looking to spend on offers in the Black Friday and Cyber Monday Sales.
Barclays head of retail and wholesale Karen Johnson says consumers are increasingly "wary of the coming festive period" with 40% expecting it to be more expensive than last year.
"To help spread the cost, we've seen that 20% of consumers have started to buy presents already, while 18% have spoken to loved ones to make a mutual agreement to cut back on gift giving".
"Black Friday promotions allow us to enhance our value-for-money credentials, which is something consumers increasingly look for"

Retail executive
Retailers are acutely aware of the stress constrained budgets are placing on consumers.
"This year's focus is on giving our customers great offers every day on their favourite products and with the rising cost of living, Black Friday is another way for customers to get even more great value and tick off their Christmas present list early," says John Lewis Partnership customer director Charlotte Lock.
"It's a win-win for customers, as buying ahead coupled with even more payment options means customers can spread the cost and stress of Christmas".
Another retail executive agrees: "Black Friday was a successful trading period for us in 2022 and we expect it to be so this year as well.
"Black Friday promotions allow us to enhance our value-for-money credentials among new and existing customers, which is something consumers increasingly look for at times when budgets are tight."
Online vs in-store
This confidence isn't shared across all categories or channels. Historically, Black Friday was a day for consumers to flock to stores, with Cyber Monday coming later as a day designed for more online deals.
In more recent years, the entire four-day Sales period has increasingly become dominated by online sales.
Despite a return to bricks-and-mortar shopping more generally in 2023, the trend is likely to continue this Black Friday.
Survey data from YouGov and nShift, commissioned by Retail Week, found 44% of UK consumers plan to prioritise shopping with pureplay retailers and marketplaces in the run-up to Christmas.
However, 80% of shopping baskets are abandoned on Black Friday.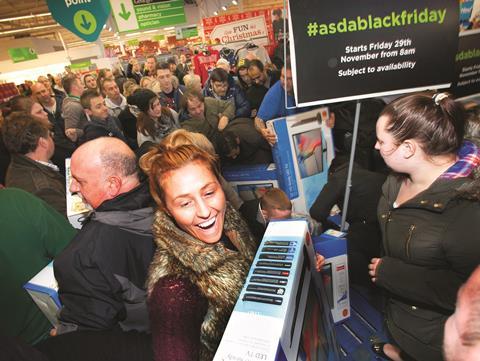 "Retailers need to make sure they've thought through their cart-conversion strategy," says nShift post-purchase product director Sean Sherwin-Smith.
"Businesses invest so much in their products and the webshop but don't give due attention to the final hurdle; for example, providing the right range of delivery options can increase conversions by 20%."
Even though ecommerce retailers are expected to see an uplift, according to IMRG strategy and insight director Andy Mulcahy it's unlikely to be felt across all retail categories.
"We are seeing some real differences in online performance, with health and beauty retailers doing quite well in September, up 1.9% year on year, while for clothing, revenue was down 9.1%," he says.
"This means some retailers are overstocked as they have not been able to shift their products and may be reflected in the breadth and depth of discounting promoted during November and Black Friday."
Multichannel retailers are anticipating an uptick, with one retailer saying they were expecting Black Friday will help "driving footfall and communicating value, and pulling some spend forward from Christmas at a time when that spend is getting later and later – all of which is very helpful for businesses".
Marketing the week
With promotions and Sale periods having run for much of the year, retailers are also juggling how strongly to promote Black Friday. Many are trying to strike a balance between offering customers enough deals to entice them to spend, while also protecting margins by trading at as near to full price as they can during the festive period.
For the first time this year, Currys has launched a pre-Black Friday event called Green Friday - offering customers savings on 140 energy efficient kitchen appliances.
"Black Friday remains absolutely integral to us, but we know that it's competitive out there and to really cut through we have to be innovative," says a Currys spokesman. "That's why we've leant on Green Friday this year – it marries together both cost-effective and sustainable living – two of the main drivers behind consumers' spending decisions in 2023.
"The campaign will be visible to customers across our digital and physical storefront, alongside featuring prominently in marketing and PR collateral."
New Look chief executive Helen Connolly says the brand wants to "maintain a full-price position" during the period, adding it will "look at what promotional activity is there for customers" during November.
"We're not going to do blanket promotions though," she adds. "They'll be very targeted".
"This is a key trading moment for us. We'll be shouting loudly and proudly about the products we have on offer"

Charlotte Lock, John Lewis Partnership
The retail executive agrees. "Our deals will be very selective, in product categories that we know our customers will be seeking value on, but we will launch those deals slightly earlier to try and maximise the opportunity".
Argos has launched a portal for consumers to get "tips for a great Black Friday in 2023", and several more direct-to-consumer brands have already started marketing the event by teasing deals for Shark and Nintendo devices.
Lock says John Lewis will be going all in on marketing this year, as it will be offering its "biggest ever range" for Black Friday.
"This is a key trading moment for us," she says. "We'll be shouting loudly and proudly about the products we have on offer from our biggest-ever range of incredible brands to give customers the best deals, whether that's in-store or online."
Supply and demand
Retailers such as Boots, Currys, Argos and Amazon have all already brought on board seasonal workers in time for the beginning of peak trading.
There has been a particular focus on hiring temporary workers to help meet demand in delivery warehouses and the supply chain – with retailers looking ahead to increased online demand over the festive period.
"Our supply chain is critical to our success and our distribution teams are ready to deal with the demand we receive from customers across the country," says Lock.
"This year, we're recruiting an additional 2,700 seasonal roles in our supply chain, including warehouse operatives and drivers. In addition, we're recruiting more than 2,900 temporary roles across our John Lewis shops, to make sure our customers get the best service when they shop with John Lewis."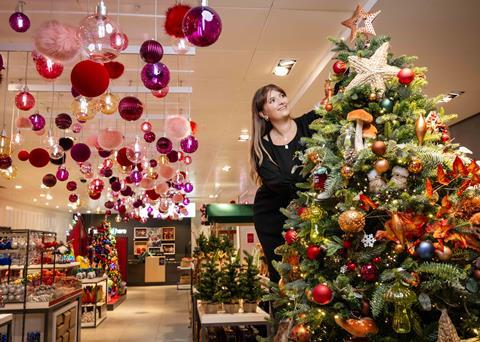 A smooth supply chain is essential to securing what is always one of the most important things for retailers at any time of the year – ensuring satisfied customers.
"Black Friday isn't what it used to be. Discounting just isn't enough. Shoppers expect a memorable experience," says nShift's Sherwin-Smith.
"It's vital that the all-important systems, such as label printing and returns, are ready for spikes in demand and that retailers have the right variety of carriers in place to ensure delivery capacity.
"The whole experience, from the time they receive a marketing message to the moment the product is in their hands, needs careful planning. Get this wrong and it's unlikely a shopper will come back for more."
Never miss a story – sign up to Retail Week's breaking news alerts