Tesco has rolled out social commerce functionality to its non-food ecommerce site through a partnership with co-buying platform Buyapowa.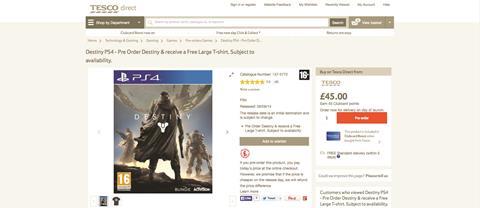 The partnership will allow customers to earn deals and rewards when buying products on Tesco Direct if they manage to encourage other people to buy the same product.
Tesco has already implemented Buaypowa's social selling platform on its grocery website and is now rolling it out to Tesco Direct to support the launch of video game Destiny.
Prizes including free games, merchandise and bonus content will be offered to those who can encourage the most friends to buy into the deals.
Buyapowa chief executive Gideon Lask said: "This campaign will open up a totally new channel that will enable Tesco to get closer to fans than any other retailer.
"Gaming is one of the biggest and most social phenomena of our time and there are a number of hardcore gaming fans that Tesco can reach by offering a unique way to purchase Destiny."