Online retail giant Amazon is testing a shopping service in the US that allows customers to pick up selected goods from a 'Treasure Truck'.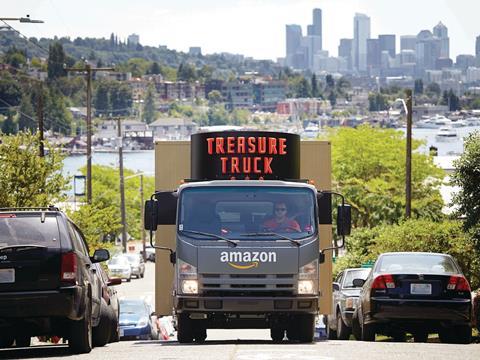 The etailer is driving around neighbourhoods in a truck filled with in-demand, limited-quantity products that are on sale for one day only. The service is being tested in Seattle as part of a limited trial.
To use the service, which runs "several" days a week, shoppers living in the city will be able to see what is on the truck on any given day by selecting the Treasure Truck option on the Amazon mobile shopping app and click "buy now" if they want to make a purchase.
Consumers can then select a time slot and one of the pre-determined locations from which to pick up their goods from the vehicle.
Customers can also search for the truck, show up and purchase goods without ordering in advance using the app.
On its website, Amazon compared the Treasure Truck to a "neighbourhood ice cream truck" and called it a "four-wheeled joy machine".
Interactive experience
The truck, which hits the road for the first time tomorrow (June 27), will be stocked with $99 (£63) inflatable paddleboards, which usually retail for $476.99 (£303).
Its website also promotes future deals on porterhouse steaks and knife sets, which will also be on sale in Seattle during the trial. The number of items stocked on the truck will vary depending on the offer.
An Amazon spokesman said: "It's a fun, interactive experience that provides access to highly desirable products, many of which they can't find anywhere else or are only available in the limited quantity that the truck holds.
"Selection is very important to customers and this is another way to offer them unique selection."
Amazon has not revealed any plans to take the Treasure Truck to other cities or markets outside of the US.
The experiment comes at a time when other US retailers are trialling local pick-up propositions. The likes of Target and Best Buy have signed up to Curbside, a mobile app that allows shoppers to purchase goods from certain retailers and pick them up without leaving their cars.