Amazon is launching its Treasure Truck, which gives local shoppers access to exclusive deals, in the UK this month to drive festive sales.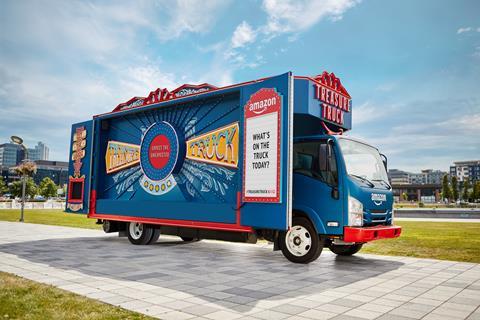 The retail giant's Treasure Truck, which has previously only been available in the US, will start to drive into London and Manchester several times a month, before being rolled out to more UK cities.
The truck will have different offers available for each visit and shoppers can text to sign up for alerts on the day it arrives and information on the products available.
Shoppers can purchases items on offer in the Treasure Truck via the Amazon app and then select a time to collect it.
The truck will also include interactive games, seasonal events and prize giveaways.
Amazon's UK head of Treasure Truck James Quick said: "We all remember the sense of excitement we felt as children when we heard the jingle of the ice-cream van, and we hope to bring that same feeling with Treasure Truck.
"Every product has been cherry-picked, from must-have Christmas presents to jaw-dropping offers, ensuring Treasure Truck will turn an ordinary day into something a bit more special. Savvy shoppers should sign up now to be the first in the know."
This foray into physical retail comes hot on the heels of Amazon's 'home of Black Friday' pop-up experience, which Retail Week visited last month.