Sports Direct boss Mike Ashley has taken aim at its shareholders, accusing them of "stabbing him in the back" over their hounding of Keith Hellawell.
Hellawell was forced to step down on Wednesday following nine years of chairmanship, which exceeds the guidelines on company governance by one year. Hellawell had been the subject of much shareholder agitation following the controversy surrounding the retailer's Shirebrook warehouse working conditions.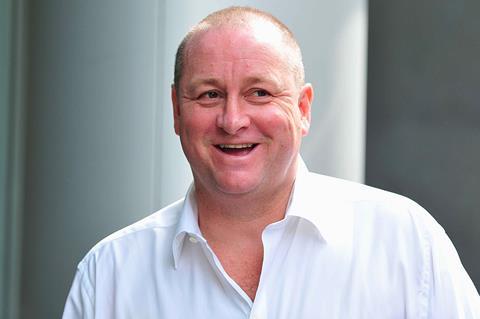 In a bizarre tirade via a statement to the stock exchange today, Ashley said shareholders had failed to support him, Hellawell and the business.
He said: "In light of the above, and despite the substantial progress made over the last few years, the shareholders have now made it extremely challenging for future engagement to take place. On the one hand, they are delighted with our performance and progress, yet with the other hand they have stabbed Sports Direct and myself in the back by repeatedly hounding Keith Hellawell.
"It is blatantly apparent that true entrepreneurs will never be accepted in the public arena. The media circus surrounding Sports Direct, including but not restricted to matters connected to our AGM, only proves that whatever progress Sports Direct makes, it will always be subject to disproportionate scrutiny and misrepresentation."
HoF house brands axed
Ashley went on to speak about the business' recent acquisition of House of Fraser, calling it a "game-changer".
He added: "I welcome its staff and suppliers into the Sports Direct family, and we look forward to building a brighter and significant future. The people within the Sports Direct group, including House of Fraser, are and will continue to be my number one priority."
The Sports Direct founder is cutting House of Fraser's remaining house brands as he re-engineers its strategy, Drapers has reported. The department store chain's previous management had cut own-brand labels in 2016 but pressed ahead with labels including Linea and Biba, which are now facing the axe.