A five-step guide to future-proofing your business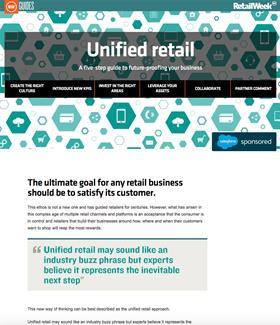 The ultimate goal for any retailer is to meet the needs of its customer. Explore how unified retail can be beneficial in this digital guide from Retail Week and Salesforce.
Consumers don't think in channels and nor should retailers. Unified retail takes omnichannel further by breaking down channels and creating a shopping experience based on the customer's own terms.
In this digital guide you will discover how to:
Create a customer-centric culture
Introduce key performance indicators
Invest in the areas that are right for you
Leverage your assets
Collaborate with the best partners.
Access Unified Retail here.


Salesforce, the Customer Success Platform and world's number-one CRM company, empowers companies to connect with their customers in a whole new way. For more information about Salesforce (NYSE: CRM), visit salesforce.com or engage with us on social media.