What marks out the 100 remarkable men and women on this year's Power List? We have selected the very best bits to make the ultimate retailer.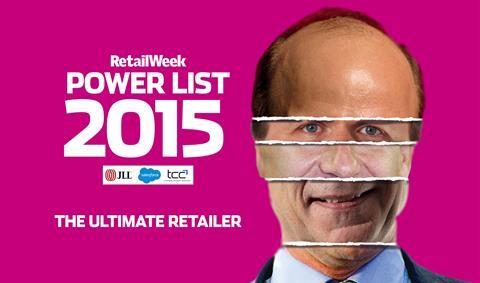 Mind: Jeff Bezos
A computer science and electrical engineering graduate of Princeton, Bezos has never been short of the grey matter and has applied scientific rigour to business.
From the algorithms and technology that drive Amazon's operations to forensic observation of what matters to consumers – and what is likely to matter to them in future – Bezos has applied the disciplines of a scientist in a lab.
In the same way, he has been a constant experimenter. Not everyone might have the brain of Bezos, but any retailer can adopt aspects of his mindset.
Eyes: Sebastian James
Sebastian James led the creation of Dixons Carphone with a vision of the future firmly in his mind – a future in which connected technology is ever more part of people's lives and which needs a retail model appropriate to the scale of change.
He looked through the eyes of consumers to identify their needs and built the business around them, enabling him to envisage a new purpose for stores and prioritise business characteristics such as service and product knowledge so that Dixons Carphone can guide customers through the fog.
Ears: Mark Price
Mark Price is a good listener. From upping the price investment on the price of staples such as milk, to launching a truly 'game-changing' personalised loyalty offer, Price is truly in tune with his shoppers.
The latter initiative, Pick Your Own Offers, is the ultimate example of listening to consumers, who since the dawn of time have longed to walk into the supermarket and hand pick the products they get discounts on. The scheme follows other unique customer-centric initiatives including giving free tea or coffee to myWaitrose members. Hear hear.
Nose: Dave Lewis
If anyone has got their nose to the grindstone, it is Tesco boss Dave Lewis.
The former Unilever man was parachuted into the embattled grocer last September and has been working tirelessly to rebuild profits, shore up its balance sheet and restore trust and transparency among both shoppers and suppliers.
He has already made a host of sweeping changes, including closing 43 unprofitable stores, creating 4,652 net additional customer-facing store roles, launching a supplier code of conduct, selling off several non-core assets including Blinkbox and revealing plans to close its Cheshunt head office.
But with tomorrow's first-quarter results expected to show a fall in like-for-like sales, Lewis will need to maintain his work rate if he is to discover the sweet smell of success.
Mouth: Malcolm Walker
If you are looking for a straight talker in the world of retail, look no further than Malcolm Walker.
The Iceland boss is renowned for cutting through the jargon and telling it like it is, most recently when he claimed the UK "would have been like Greece" if Labour had triumphed in May's general election. Although his refreshing honesty has won him many an admirer, Walker himself will be the first to admit that it has led to him dropping the odd clanger along the way.
In January, he told Retail Week that Iceland's Christmas trading had been "bloody awful", but he is leading the battle cry as the retailer attempts to mount a fightback.
Neck: Sir Charlie Mayfield
John Lewis's Sir Charlie Mayfield is used to sticking his neck out on thorny issues. Mayfield was one of the first business leaders to wade into the Scottish referendum debate, warning that a 'yes' vote would lead to economic uncertainty and rising costs of doing business.
And as chairman of the British Retail Consortium, the former military man will be leveraging those talents even more as he argues the case for business rates change within the corridors of power.
Power List 2015: Grocery chiefs absent from retail Power List top five
1

2

3

Currently reading

Power List 2015: Find out what it takes to be the ultimate retailer

4