Fifteen major retailers and brands have joined forces with Be Inspired, Retail Week's six-year-old diversity initiative to promote inclusivity across the industry in 2022 and beyond.
A number of high-profile retail organisations have come together to support the leading I&D programme, pledging their commitment to addressing diversity in retail and developing future talent.
Established in 2016 by Retail Week, Be Inspired now counts 15 retailers, including M&S, TJX Europe, Boden, Beaverbrooks, Kingfisher and Lidl, as partners.
Through the programme, retailers are able to provide colleagues with access to essential I&D learning and development via online content, interactive workshops and key Be Inspired events throughout the year, as well as supporting senior leaders to fulfil their potential through the Senior Leadership Academy.
"We're proud to be joining forces with the Be Inspired campaign for another year"

Marks & Spencer
Initially launched as a dedicated programme for women in retail, Be Inspired has evolved to break down the barriers for everyone in the sector, regardless of age, background, gender, race, sexual orientation or ability.
It provides practical skills to progress careers, help retail workers foster the right culture for a more balanced workforce, connect them with the leaders of today and help build the pipeline of leaders of tomorrow.
Be Inspired also unites hundreds of retail colleagues from across the UK at its flagship annual conference.
Last year's virtual conference drew engagement from more than 750 attendees and was focused on the theme of 'Inclusion Starts With You', impressing accountability on promoting inclusivity.
Be Inspired's retail partners include:
Beaverbrooks
Boden
EE
Kingfisher
Lidl
Marks & Spencer
TJX Europe
An M&S spokesperson said: "We're proud to be joining forces with the Be Inspired campaign for another year. By working together across the industry, we can have a much bigger impact on making retail inclusive for all our customers.
"We want the M&S family to be a place where everyone belongs and can be their best every day. That's why we'll be encouraging colleagues to get involved with the Be Inspired workshops and campaign throughout the year."
Outside of retail, Be Inspired also has support from industry experts and charities including Fujitsu, Lifetime Training, Workday, retailTRUST and NSU Media. These partners enable Retail Week to scale its work and align its I&D focuses.
Be Inspired head of D&I Laura Heywood said: "Together with our partners and ambassadors, we believe in being active participants in driving progressive change and equality in one of the UK's most important sectors.
"This year, across dedicated events, content, our Senior Leadership Academy, our flagship Be Inspired conference and progressive leadership conference, we will support those working in retail to fulfil their career aspirations and help retail leaders to build inclusive and balanced workforces."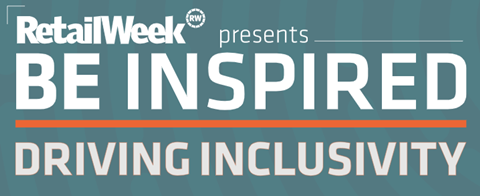 Be Inspired's mission is to give everyone – regardless of age, background, gender, race, sexual orientation or ability – the tools, inspiration, knowledge and connections needed to achieve their career goals.
To learn more about Be Inspired, visit retail-week.com/be-inspired
For more information on becoming a retail partner, please contact Daniela Rizzo on daniela.rizzo@ascential.com