Homebase has launched a social networking site to promote its gardening credentials.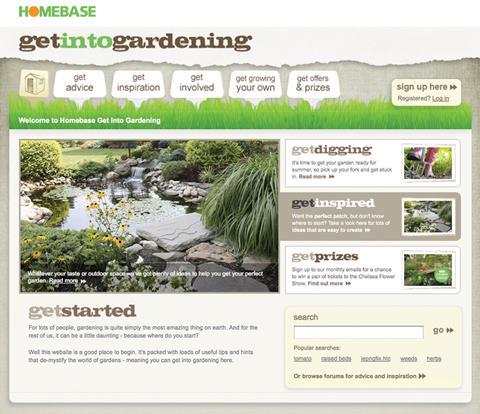 The DIY retailer, owned by Argos parent Home Retail Group, has gone live with Getintogardening.co.uk. The site, designed by creative agency Meteorite, features blogs, advice from gardeners and films to show users how to carry out gardening tasks.
Homebase managing director Paul Loft said the internet "will have a very powerful part to play in DIY". He added that Homebase would consider launching a second social networking site for decorating if the gardening launch is a success.
"Watching films will be massive in home improvement retailing," he said. "It's very difficult to write down on a piece of paper how to hang a heavy door."
Homebase has also started selling fitted bedrooms as it seeks to mop up the market share left by MFI's demise in 2008. Loft said 100 Homebase stores have had the offering since just before Christmas, and that sales have "beaten expectations" so will be rolled out to more stores this year.
Homebase also offers home delivery and installation in the category, which rival Wickes pulled out of last year.
Loft said: "MFI was a big player in it so there's a market opportunity in it. There's good growth there, so we're upping our densities."
The full offer is displayed in 500 sq ft spaces in stores. Homebase took "a little bit of space out of furniture" in order to make the space.
Loft said sales of Homebase's value range, revealed by Retail Week, are "beating expectations" and that more lines will be added this year. "We're seeing exceptionally good sales in some products, and less cannibalisation than we thought, and the products are reasonably good margin. We'll look at it in four weeks' time and will beef the range up mid-summer," he said.
He said 2009 was "not as bad as we feared" and that Homebase gained share this year. He added: "We anticipate we'll do the same next year. We see ourselves beating the market."