Morrisons reported a 0.7% increase in like-for-likes over the Christmas period despite shoppers delaying their trips to the high street.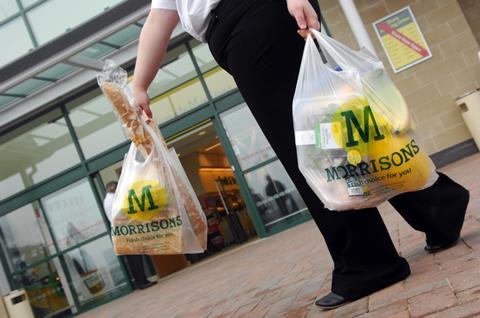 The grocer is also believed to be eyeing 11 big box retail park properties that are being vacated by electrical retailer Best Buy for its Kiddicare brand, according to the Sunday Telegraph.
In the six weeks to 1 January, total sales at Morrisons excluding fuel were up by 2.9%.
The grocer said its festive performance was a result of "outstanding quality, sharp prices and innovative promotional offers, which resulted in an extra 800,000 customers per week shopping with Morrisons".
Later shopping trips meant there was a greater emphasis on fresh food, one of the retailer's key categories.
Morrisons chief executive Dalton Philips said: "I am pleased that in a difficult trading environment we have continued to grow our business and have delivered another good performance in a very tough market.
"At Christmas, when customers are even more focused on great quality food at outstanding value, we really need to serve our customers well. We've done that and I thank all our 130,000 colleagues for their outstanding efforts."
Morrisons performance is in line with board expectations but it remains cautious in 2012 despite an anticipated reduction in inflationary pressures. A focus on fresh, quality and value is expected to appeal to "a growing customer base".
Morrisons hopes the growth will continue as it discusses taking Best Buy sites with Best Buy's partner Carphone Warehouse. A deal is yet to be done but if properties are taken by Morrisons it would pit Kiddicare against maternity specialist Mothercare.
In November, Best Buy said it was pulling the plug on the 11 big box sites due to the tough electrical market in the UK.