Amazon has been given official approval to begin testing drone flight delivery technology in US airspace.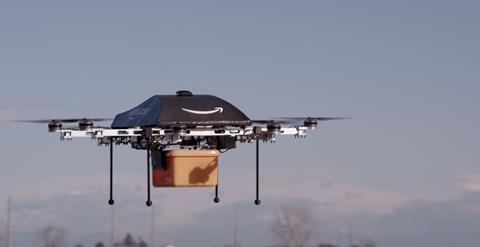 The etailer received an experimental airworthiness certificate from the Federal Aviation Administration (FAA) to begin testing unmanned aircraft deliveries.
The certification will be used by Amazon Logistics for research and development and crew training.
Restrictions to the tests mean that Amazon must conduct the drone flights at 400ft or below and during daylight hours in "visible meteorological conditions." The FAA said the drones must also always remain within line-of-sight of the pilot and observer, and the pilot flying the aircraft must have at least a private pilot's certificate and current medical certification.
But insisting that the drones remain within visual line-of-sight may in the long run hinder the etailer's delivery plans.
Amazon has been told to provide monthly flight data to the FAA recording the number of flights conducted, pilot duty time per flight, unusual hardware or software malfunctions, any deviations from air traffic controllers' instructions, and any unintended loss of communication links.
The etailer, which began testing drones indoors in 2013 with the aim of delivering orders in 30 minutes or less, plans to use unmanned drones to deliver packages.