PAID FOR POST
The Hermes Supply Chain Blog on Retail Week
Delivery by drone became a reality this week as US retailer 7-Eleven used the aircraft to fulfil a customer order in Reno, Nevada.
And what did the auspicious maiden voyage carry? A chicken sandwich, donuts and Slurpees. Nice.
Meanwhile Amazon, the pioneer of drone delivery, has received the green light from the Civil Aviation Authority to test drone delivery in the UK.
I must admit, when I first read Amazon's plan to launch drone delivery service Prime Air two and a half years ago I thought it was one big PR stunt. The retailer's big reveal coincided with Cyber Weekend 2013 and garnered many free column inches for Amazon during the biggest shopping weekend of the year for etailers.
But maybe my cynicism is misplaced. Amazon says drones will allow it to get packages to customers in 30 minutes or less and maintains the delivery method will be safer and more efficient. There could also be environmental benefits because a battery-operated drone could be much better for the climate than a petrol-fuelled lorry.
However, I can't get over the many pitfalls. For one, taking over our airspace. There is a minefield of regulations about using drones for commercial purposes and myriad safety checks that need to be carried out. Presumably there will be also insurance implications because drone collisions with both property and people are possible
Will Amazon et al have to overhaul their entire distribution set-ups to facilitate drone delivery?
Right now, the majority of retailers distribute goods from giant warehouses scattered around the UK. Drone deliveries are likely to be short local drops from locations nearby - the 7-Eleven delivery was made to an address a mile from the store. Will Amazon have to set up local hubs? How will these drones deliver to flats? Where will they leave the parcel? My list of questions go on and on.
I can't help thinking that using an Uber-style driver service to make these short, speedy journeys would be a damn sight easier.
That brings me to my final point - the customer service drivers deliver.
The driver is the only face-to-face contact customers have with online brands and for many, such as Ocado or Ao.com, they can be a retailer's greatest strength.
A drone cannot greet the customer with a warm smile or offer to carry the parcel up five floors.The service provided by delivery drivers is incredibly important and is why some customers stay loyal.
To give that up, on the basis of some questionable operational efficiencies is a big risk to take.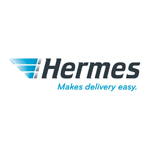 Hermes' vision is to be the carrier of choice for every end customer in the UK. The company currently delivers parcels on behalf of 80% of the country's top retailers and etailers.