Deadline for second-round bids for cycles etailer nears, but 2012 flotation could still be on the cards.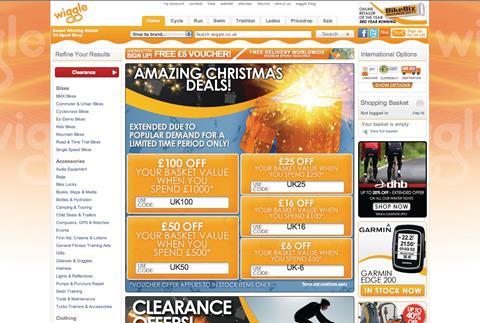 Cycles etailer Wiggle has attracted international interest, as Swedish private equity firm EQT enters the bidding race to acquire the retailer.
EQT – which has investments in Northern and Eastern Europe, Asia and the US – has joined bidders Bridgepoint and Advent in entering second-round bids.
There has been speculation that Warburg Pincus is also in the running, while further parties are also believed to be interested.
The deadline for second-round bids for Wiggle, which has been valued at £200m, is November 25, although this could be extended to November 28. It is hoped a decision on a preferred bidder will be made in December, although the process could take longer.
Wiggle is also considering an IPO as part of a dual-track process. The retailer is understood to be meeting next week with investment bank UBS, which is thought to have been hired to manage the potential flotation. Any IPO will not kick off until the first half of 2012.
One source close to the situation told Retail Week that the current macro-economic environment would make a float challenging. The source said: "Because of Europe people are feeling very nervous about investing in new businesses."
However, the source added that Wiggle was committed to the dual-track process: "Although the sale process is well-advanced, it does not mean the IPO is off. Interested parties would have to submit a deal that is strong enough to accept, which would then stop the flotation."
Etailer The Hut scrapped plans to float this year because of difficult economic conditions. It is believed it had planned to float in the autumn, and Numis, Barclays Capital and Altium were poised to be appointed to handle the process in July.
Wiggle is seen as an attractive prospect for investors. It has enjoyed continued strong growth as it benefits from the increased popularity in cycling and a growing international business.
In the year to January 31, the etailer posted record EBITDA, up from £7.5m to £10.5m, while turnover soared 55% to £86.8m.
Isis Equity Partners acquired a 42% stake in the retailer for £12.3m in 2006.