Beds retailer Dreams has bounced back into profit after its turnaround strategy began to bear fruit following its administration in 2013.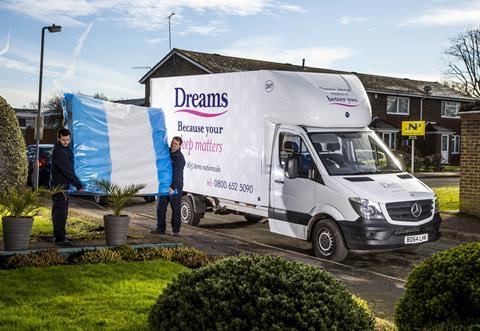 The beds specialist reported a £10.5m swing in EBITDA for the year ending December 24, notching up £6.9m in earnings against a £3.6m loss in 2013 and ahead of the £5.5m profit it had forecast.
It represents a return to form for the retailer, which collapsed two years ago after over-expanding and suffering under ballooning debts, and reflects a wider trend of increased confidence in the big-ticket sector as the economy improves.
Dreams chief executive Mike Logue (pictured) said EBITDA was driven in part by efficiencies made in factories after Dreams "cut its cloth" following the administration process.
The retailer's like-for-likes were up 7.8% in 2014 while turnover nudged up 0.8% to £201.6m driven by a strong second half.
Logue said he was "very pleased" with trading since year-end.
He said: "There is still some way to go but it is a solid first year of a three-year recovery plan that is ahead of plan in terms of profitability."
Turnaround plan
Logue kicked off the three-year turnaround strategy last year and attributed the 160-store retailer's success to getting the basics right, refreshing half of its estate and improving conversion rates in-store. Logue also said online has helped drive sales and now accounts for 10% of turnover.
Dreams owner Sun European invested £6m last year into areas of the business including IT, new vehicles and store refurbishments, which have generated a 2% to 3% uplift in conversion rates.
Logue revealed there will be a similar level of investment this year, predominantly on refurbishing the remaining stores and opening 10 to 15 new shops.
He believes there is space in the market for 30 new standalone shops and said half of these could be on the high street.
Dreams is also in discussions about testing concessions in department stores in cities such as Glasgow, Manchester and Liverpool, to take advantage of their "fantastic footfall".
Dreams' improving fortunes allowed it to give employees their first pay rise in four years in August. It is about to award head office staff and management in its factories and distribution network their first bonus for five years.
Dreams' revival comes as big-ticket peers seek to take advantage of the more buoyant furniture market. ScS launched a successful IPO in January, while DFS will float on the stock market today.
Logue said Sun European is unlikely to seek an IPO of Dreams in the near future.
How Dreams put its losses to bed
A key part of Dreams' turnaround was a focus on manufacturing processes to reduce return rates, which have fallen from 9% in 2013 to 5.7% last year.
The retailer invested £1m in quality control to improve the production process. Logue said: "With our own factory being integrated, it is down to ourselves. There is no one else to blame."
As part of its focus on quality, Dreams developed its own-brand TheraPur mattress, which now accounts for 15% of the retailer's mattress sales.
The retailer will launch a TV campaign this summer to promote the brand, which Logue believes could eventually be carried by other retailers. It is also focusing on communicating how its supply chain works, including its British manufacturing. "Customers did not understand we have a factory in the West Midlands," said Logue.
Dreams chief executive Mike Logue will discuss how to turn staff into brand advocates at Retail Week Live on March 11.