Tesco's advertising for its price-matching Brand Guarantee scheme has been banned after watchdogs labelled it "misleading".
The Advertising Standards Authority (ASA) upheld a complaint from Tesco's big four rival Sainsbury's, which claimed the grocer did not make the 10-item minimum purchase required to qualify for discounts clear enough in its advertising.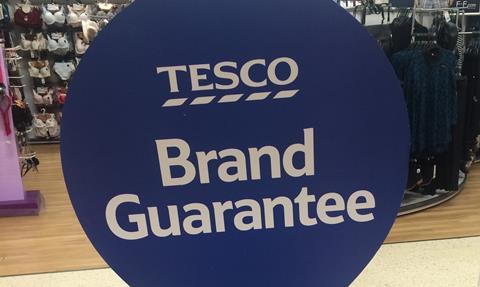 Tesco shoppers need to purchase a minimum basket of 10 items, including at least one comparable branded product, to qualify for money back at the till if their branded goods would have been cheaper at Asda, Sainsbury's or Morrisons.
As previously reported by Retail Week, the supermarket giant's boss Dave Lewis introduced the programme in October, replacing its Price Promise initiative.
In Tesco's original advertising for the scheme, which was altered prior to today's ASA ruling, the grocer declared shoppers would "never pay more for your branded shop".
Smaller print in the advert stated: "Min. basket of 10 different products, including one comparable branded product. Total price of branded grocery shop compared with Asda, Morrisons and Sainsbury's and if cheaper elsewhere the difference will be taken off your bill."
Tesco said the advert "communicated the scheme clearly to customers and was consistent with the industry's wider approach to price-match advertising."
The grocer believed that customers were familiar with how the price-match schemes worked and that a minimum spend requirement usually applied.
Tesco said it had also sought advice from the CAP Copy Advice team before publishing the advert.
CAP advised the supermarket giant that stipulating the minimum purchase requirement within the advert's small print was "likely to be acceptable".
Regulator ruling
However, the ASA said that, while consumers were "likely to be familiar with the concept of price-match schemes", they "would not necessarily be aware of the conditions involved, or that there might be a minimum purchase requirement" to qualify for Brand Guarantee.
"We've listened to customer feedback and have already changed the layout of our adverts where necessary. There won't be any changes to Brand Guarantee as a result of this decision"

Tesco
It ruled that it was "not sufficiently clear from the main body of the ad that it was necessary to buy multiple products in order to qualify."
The ASA maintained that "never pay more for your branded shop" was a claim that was "likely to be understood by consumers to mean that if they purchased branded goods, they would qualify for the price match against the named retailers.
"While the small print said it was necessary to purchase at least 10 different items, including one comparable branded product, for the Brand Guarantee to apply, we considered that contradicted the headline claim and was not sufficiently prominent to counteract the misleading impression created by it," the ASA concluded.
Tesco is understood to be "very disappointed" with the ruling.
A spokesman for the grocer said: "We are pleased Brand Guarantee has proven so popular since its launch.
"We've listened to customer feedback and have already changed the layout of our adverts where necessary. There won't be any changes to Brand Guarantee as a result of this decision."