Tesco has laid down the gauntlet to technology giant Apple with plans to roll out its own mobile payment service, Retail Week can reveal.
The supermarket giant's new app, called PayQwiq, will allow shoppers to store their debit card and Tesco Clubcard details and pay for baskets worth up to £400 – dwarfing Apple Pay's £30 spending limit.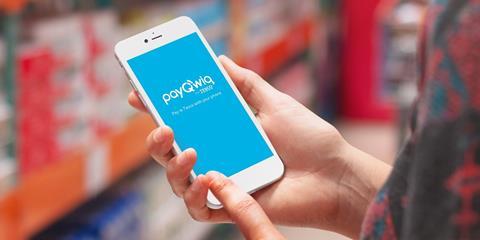 Read tech reporter Grace Bowden's thoughts
Tesco is the latest retailer to develop its own mobile payment option in direct competition with both Apple Pay and Android Pay.
Sainsbury's and Walmart in the US have each developed alternatives in recent months as retailers seek to eliminate the costs involved in adopting the technology and keep valuable customer data to themselves.
After completing their shop, Tesco's PayQwiq users can present their mobile phone at the checkout, where the cashier will scan a code to instantly take payment and add loyalty points to the shopper's Clubcard account through the digital wallet.
The PayQwiq app, which was developed by Tesco Bank, has already been tested with thousands of customers across around 50 stores in Edinburgh and London.
Following that initial pilot, which sources said lasted "a couple of months", Tesco is now extending the scheme to around 500 stores within the M25.
The grocer is emailing 600,000 customers during the coming weeks, inviting them to download and use the app as part of the next phase of the roll-out.
A Tesco spokesman said: "At Tesco we are always looking to make the shopping trip better for customers and that's why we've developed PayQwiq.
"With PayQwiq customers can pay for their shopping and collect their Clubcard points all with one simple scan of their phone.
"Feedback from customers who have used PayQwiq has been very positive and we are now extending the service to more customers and more stores".
Grocers in the mobile payments arena
The grocer's big four rival Sainsbury's is trialling its SmartShop app, which will allow users to make shopping lists at home using their smartphones, create a personalised store navigation guide for the precise products being bought, scan products using their phone and then pay using their mobiles at dedicated check-outs.
Asda's owner Walmart has also launched its own alternative in the US in a bid to expand customer payment options and increase the speed of checkouts in its stores.
The US retailer's payment service has been integrated into its existing app, meaning customers who have already downloaded it on their iOS or Android device can add a credit, debit or pre-paid gift card to their account.
Similar to Tesco's Pay Qwiq service, Walmart shoppers are presented with a unique QR code at the checkout, which they scan using their smartphone, rather than using the near field communication technology adopted by contactless systems Apple Pay and Android Pay.
Tech reporter Grace Bowden shares her thoughts
Tesco's latest mobile venture takes on the likes of Apple and Samsung with its own standalone contactless payment mobile app.
The proposition of PayQwiq is a compelling one. It has a strong focus on loyalty and will instantly add loyalty points to a customer's Clubcard account when they pay using the app. Furthermore, its £400 spend limit offers shoppers significantly more spending power in comparison with the current £30 limit set by contactless payment providers such as Visa.
More than 50% of UK transactions were cashless for the first time last year and it is clear that it is a sector that is innovating at pace.
Tesco's new offer could be very disruptive, but it is questionable whether shoppers will download separate apps for contactless payments from individual retailers.
Unlike Walmart's contactless payment technology, which launched last year and sits inside its existing retail app, Tesco's PayQwiq offer is separate from its current retail app.
The grocer's standalone contactless payment and loyalty offer could be a shrewd move, but will it cannibalise downloads of its pre-existing online shopping app?
I recently met with Mastercard's head of innovation, Garry Lyons, and he said one of the biggest threats that would face mass adoption of new payment technology could be "a lack of interoperability between different offers".
Tesco's new app is relevant for shoppers and throws the gauntlet down to its supermarket rivals.
However, one has to wonder if shoppers will choose to have different payment apps for each of the big four over the convenience of a centralised contactless payment option in the future.