Iceland engages in a cold war, Waitrose bids to free innocent coconut water, and it's all-hands-on-deck at Carpetright.
Iceland boss Malcolm Walker may have added fuel to the fire of the grocer's ongoing battle with its namesake nation.
Despite the Icelandic government taking legal action against the frozen-food specialist over the trademark of its name, Walker tweeted a playful image of the retailer's Christmas party, alongside the caption: "Funnily enough we love Iceland (the country) so much we held a Viking-themed Christmas party at our head office."
But he later tweeted: "Though of course if it has to come to a fight…" above pictures of him slaying a Viking with a sword. Walker will be hoping to repeat the feat by conquering his Nordic counterparts in court.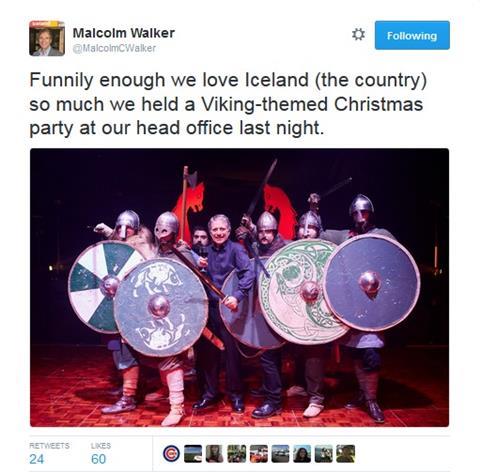 Waitrose in bid to free innocent beverage
Never one to neglect its ethical concerns, Waitrose has gone above and beyond in its support of…coconut water.
"Free innocent coconut water", the upmarket grocer implores on its customer's receipts.
Who is responsible for taking the innocent refreshing beverage by hostage is yet unclear but, as this tweet from Hamish Thompson agrees, it is good to see Waitrose campaigning for justice.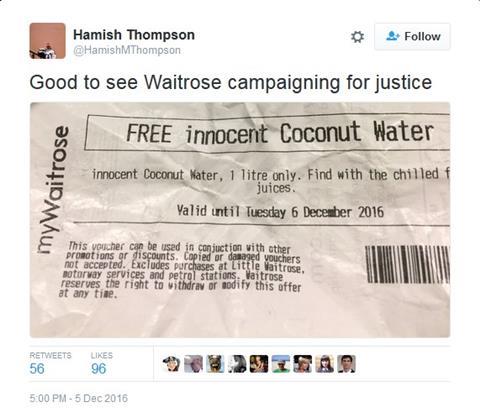 Carpetright boss Walsh gets put to good use
Demonstrating that the retail boss is not shy of a hard day's work, Carpetright chief executive Wilf Walsh was snapped Hoovering in the retailer's Gerrards Cross store last week.
The boss tweeted that it was "great to have my extensive customer service skills recognised by the team".
Suck it up, Wilf. It's important to have those carpets looking top-notch now.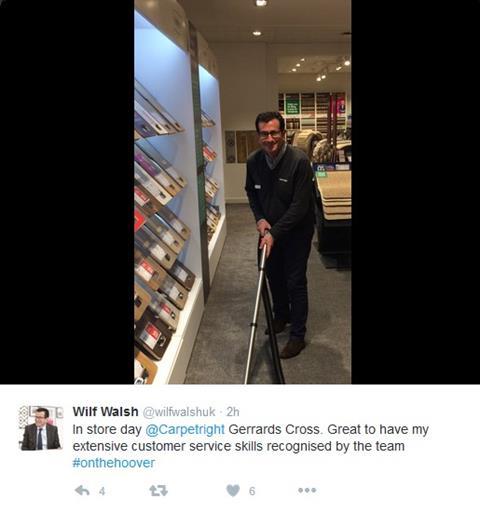 Bolton's giant snow slide
Retailers in Bolton could be in for a bumper Christmas after the local council launched a 'winter festival' in the city centre.
Arguably the star attraction is a giant snow slide (pictured) aimed at pulling in the punters. Being Bolton, Retail Week couldn't help but think of the town's favourite son, comedian Peter Kay, and his legendary series Phoenix Nights.
Hopefully the festivities will run more smoothly than Brian Potter's infamous family fun day in which a phallic addition to a bouncy castle has to be converted into 'Sammy the snake'.
Bolton's snow slide