Maplin's Meakin takes the business by the horns and Poundland helps Sainsbury's chairman 'live well for less'.
Maplin boss takes business by the horns
The annual managers' conference is a prime opportunity for retail chief execs to strut their stuff and inspire colleagues to get on board with plans for the year ahead.
But Maplin boss Oliver Meakin came up with a rather original way to gather the proverbial troops, as the electricals and technology business marches on with its refurbishment plans.
Meakin, a lover of gadgets, took on a new role for the occasion, and dressed from head to toe as a Viking.
He encouraged the crowd of store managers – who were each wearing a Viking hat – to proceed in a rousing chant, made popular by the Icelandic football team in last year's World Cup.
Here's hoping Meakin and his team of Vikings can spearhead Maplin to retail glory.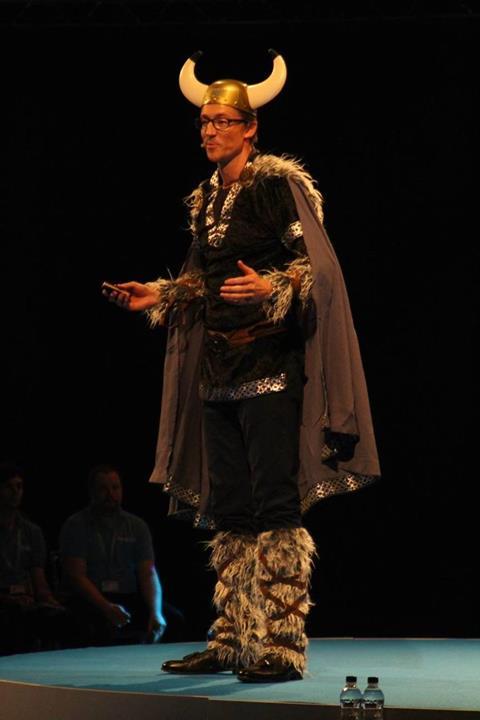 Poundland helps Sainsbury's chairman 'live well for less'
Sainsbury's chairman David Tyler came under fire this week after it emerged that he used the grocer's staff to help revamp his home.
Sensing a sales opportunity, Poundland jumped in on social media to offer a money saving alternative of its own.
The value operator made light of the situation, tweeting: 'Next time Sainsbury's chairman wants to cut costs on revamping his home, why doesn't he try us for interiors items?'
Tyler may well take them up on the offer. After all, we all know how much Sainsbury's likes to "live well for less".

A Drone for all seasons
Drones etailer DronesDirect has come up with a novel way to protect shoppers from the wet weather.
Solving the age-old dilemma of having to hold an umbrella in your hand when it rains, they have released the Umbrella Drone.
For just £1,299 shoppers can buy the product, which will float above their heads as the walk in the rain for up to 30 minutes (which is how long the battery lasts).
British shoppers need moan about the weather no more as retail technology solves another problem they never knew they had.