Morrisons' like-for-likes excluding petrol slumped 6.3% in the 13 weeks to November 2 and total sales excluding fuel were down by 3.6%.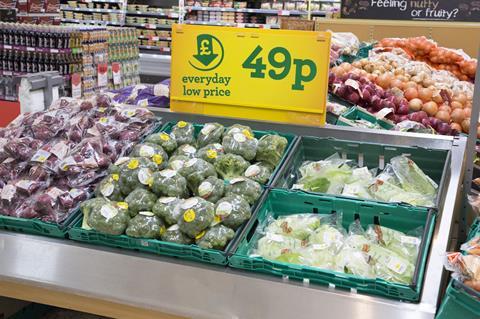 Despite the grocer reporting another quarter of falling sales, it said: "Morrisons' third quarter showed continued progress on the three-year plan.
"As outlined at the interim results, it will take time for our initiatives to fully benefit our sales performance. In the meantime, we continue to see encouraging progress in all components of our strategy and in our volume-related key performance indicators (KPIs)."
Morrisons said the average number of items per basket continued to improve. Although it was down 2.4%, it was "significantly better" than the low of -6.9% in the fourth quarter of 2013/14. Online sales contributed 0.7% to Morrisons' like-for-likes in the quarter.
The grocer said it is confident it will generate £2bn of cash and £1bn of cost savings over three years, as planned.
It also remains confident in its full year 2014/15 profit outlook. It expects underlying pre-tax profit to be in the narrower range of £335m to £365m, a change from initial guidance of between £325m and £375m, after £65m of new business development costs and £70m of one-off costs.
Christmas trading
Morrisons chief executive Dalton Philips said: "Morrisons is meeting the challenges created by a period of intense industry competition and structural change with quick and decisive action. I am encouraged by the further progress we have made, especially on a number of key operational measures, cash flow and costs.
"We look forward to the key Christmas period focused on offering customers the best in quality fresh food and value for money that Morrisons is famous for."
Philips said Morrisons had delayed the launch of its Christmas campaign this year to November, compared with October last year. He said Morrisons would focus on making it an "easy Christmas" for shoppers, after the retailer launched initiatives including extending opening hours and removing locks from trolleys.
While he said consumer sentiment was "difficult", he remained upbeat on the grocer's prospects. "I'm feeling bullish about Christmas," he said.
Discounter competition
Philips remained unconcerned about Danish discounter Netto returning to UK retail through a joint venture with Sainsbury's. Netto opened its first store today outside Leeds, and Philips said the launch was simply part of the "most competitive market in the world". "It's one store today, we'll be looking at it," he said.
Morrisons said it "substantially" increased investment in its proposition in the quarter. It launched its price match scheme Match & More in the period, which matches prices against Aldi and Lidl – the first scheme in the market to do so. "The card is already proving extremely popular with customers," Morrisons said.
Philips added: "The launch of the Match & More card was another big move for Morrisons. We are the only supermarket that is price matching the discounters and the successful launch last month was a testament to the positive way our 120,000 colleagues are delivering innovation and embracing the changes at Morrisons."
It is understood that the card has 1 million members, but Philips declined to confirm this. He said: "We're very happy with the very positive initial customer response. The app has taken off extremely well."
The grocer said "an improving IT platform is enabling Morrisons to better understand and serve customers, and drive cost out of the business".
Morrisons said in-store cost initiatives including restructuring teams and simplifying the range saw "significant progress" during the quarter.
Store openings
The grocer is also looking to bring production closer to home and plans to close its produce packing facility in the Netherlands and potentially transfer the operation to the UK.
Morrisons opened 12 M Local stores and three 'core' stores. It said it is on schedule to meet its target of opening 60 to 70 M Local stores by the year end. The grocer also opened a new online hub in Greater Manchester.
It added that its financial position "remains strong", with net debt of £2.6bn.
After progress made on debt reduction, Morrisons now expects year-end net debt to be £2.3bn to £2.4bn, "£100m better than initially guided and £400m to £500m lower year-on-year".