Lidl has poked fun at Sainsbury's by launching its own version of the '50p challenge' after Sainsbury's was embarrassed after a poster designed for internal use went viral.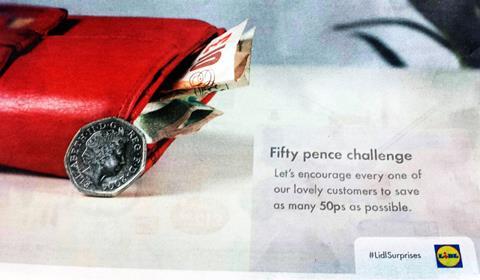 Lidl is using press ads and in-store posters to encourage "every one of our lovely customers to save as many 50ps as possible" in reference to a Sainsbury's poster that asked staff to encourage customers to spend an additional 50p in-store.
The Sainsbury's poster was designed for internal use only but was accidentally placed in a store window in East London and went viral after a customer posted a picture of it on Twitter and ignored pleas from the Sainsbury's social media team to inform the grocer where the poster was displayed.
The Sainsbury's poster read: 'Fifty pence challenge. Let's encourage every customer to spend an additional 50p during each shopping trip between now and the year-end.'
The embarrassing incident came the day before Sainsbury's told the markets its second-quarter sales had dropped by 2.8%.
The move comes as the big four grocers come under intense pressure from changing market conditions and the rise of the discounters.
Sainsbury's processes 24 million transactions per week, meaning the 50p challenge equates to around an extra £280m of sales by the year-end.
A Sainsbury's spokesperson said: "We often use posters to make store targets fun and achievable for our colleagues. They are intended for colleague areas in the store, but this one was mistakenly put on public display."