Rugby players recruited to keep Black Friday shoppers at bay, Myleene Klass is streamed across Southbank and Foyles' old flagship is rebranded.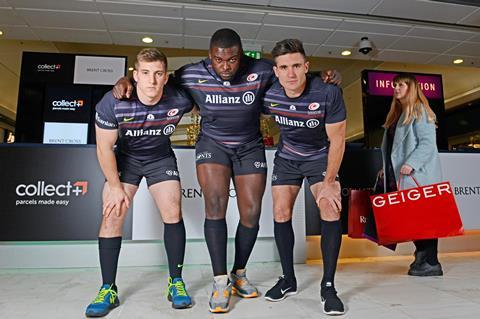 Bargain Sin Bin
Black Friday mania has reached fever pitch, forcing retailers to dream up all sorts of solutions to manage the crowds.
After reports of fights breaking out at Asda stores last year, it is understood the Walmart-owned grocer will appeal to the Brits' love of queuing to prevent stampedes this year.
However, property developer Hammerson is leaving nothing to chance. It has hired professional rugby players to keep people in line.
Its Highcross Shopping Centre in Leicester has drafted in former Leicester Tigers and England player Neil Back to deal with the Black Friday scrum. Meanwhile, the Brent Shopping Centre is enlisting the services of the Saracens Rugby Club as make-do bouncers.
Hammerson said the rugby stars will encourage crazed shoppers to follow rules of fair play etiquette while in-store.
At the rate Black Friday is growing in the UK it is unlikely that next year a rugby starting XV will be able to hold back the crowds. It might be time to call in the army.
Klass act
There's no escaping Myleene Klass these days. After the Littlewoods brand ambassador's dressing down of Ed Miliband went viral, a strange apparition appeared in London. Littlewoods projected images of Klass onto a jet of water on the capital's Southbank as part of its Christmas campaign. One can only hope Miliband was not strolling past at the time.
Sign o' the Times
No need for tears at the closure of the old Foyles flagship store on Charing Cross Road. It has moved down the road but the person in charge of dismantling the sign has a sense of humour.
Twitter is a-flood with images of the repurposed sign. In the place where the Foyles name once proudly stood is a new, intriguing fascia. With a bit of jiggling around of the 'y' a mischief maker has created an 'o yes' sign.
Could a rebranding of Foyles be in order based on the popularity of the sign? Anything to help fight the behemoth Amazon is worth a shot.