Discover how leading retailers and organisations are advancing inclusion and championing equity, and what you can do to follow in their footsteps. Be Inspired's new report reveals all.
It's common knowledge that a balanced and diverse workforce is good for business, benefiting customers, profitability and workplace culture.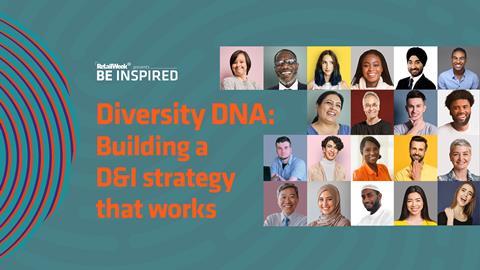 But diversity is only the first step – retail leaders must focus on cultivating a truly inclusive environment in order to see the benefits.
The scale of the solution doesn't yet match the scale of the problem – and that's where Diversity DNA comes in.
This free digital report, produced by Retail Week Be Inspired in partnership with Workday, will explore how to embed diversity and inclusion (D&I) into the very core of your business, building a strategy that not only creates impact but also results.
We analyse how you can become personally accountable for driving inclusivity and how to lean into D&I strategies even when they are beyond your comfort zone.
What does the report cover?
The stats behind the headlines – just how diverse is UK retail and how can it do better?
Ways to speak out on behalf of marginalised voices and lean into difficult conversations as an ally.
How to minimise the impact of Covid-19 on staff and advancing equitable workplaces.
Exclusive insights from retailers and organisations breaking down barriers and accelerating real change.
Discover the five building blocks to D&I strategy success.
Cultivating your culture
From making behavioural changes and adopting technology that supports cultural transformation, to partnering with others that champion diversity, there many ways UK retailers can step up their efforts to ensure D&I drives long-term business growth.
In the report we feature exclusive case studies from a multitude of organizations that are leading the way in D&I. To whet your appetite, here are two you can learn from and be inspired by. To access the rest, download the report here.
You can find out more about driving diversity and equity across the retail industry by watching sessions from Be Inspired's Virtual Conference on demand here.
Marks & Spencer
M&S is drilling down on promoting inclusivity and targeting diversity following CEO Steve Rowe's message to staff in the summer of 2020, in which he said actions undertaken by the retailer so far "were not good enough", and that he would be "putting my personal weight behind this".
Rowe's strategy is being led by group head of inclusion and diversity Cleo Thompson, who joined the business last year. She says: "My job is to help facilitate long-term, systemic change across the business to really help us ensure that M&S delivers an inclusive culture within a diverse environment."
To become a more inclusive place to work and shop, M&S is:
Supporting the growth of its seven colleague networks: LGBTQ+, Gender, Buddy (which supports colleagues who live with mental and physical health challenges), Culture and Heritage (for those of all races and faiths), Veterans, Family and Carers, and its newest network the Menopause Group.
Driving inclusivity in store by rolling out sunflower lanyards for those with hidden disabilities, introducing quiet shopping hours for those with autism and other sensory conditions, and making assistance dog training mandatory for all customer assistants.
Partnering with external organisations for change. Alongside Be Inspired, this includes 10,000 Black Interns (which offers paid work experience, training and development opportunities, and mentorship and sponsorship for the Black community), The Halo Code (which encourages and supports Black colleagues to wear their hair how they wish), Pearn Kandola (which delivers inclusive leadership training), and tie-ups with inclusion charities that customers can donate to via Sparks.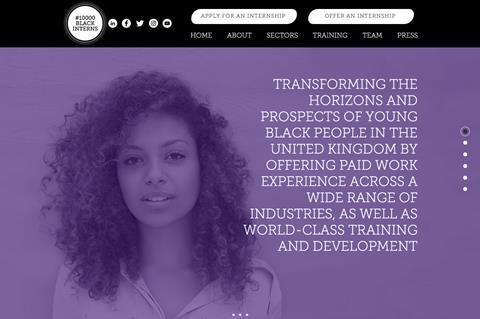 The retailer is also rethinking its products and ranges: for instance, it recently launched an adaptive kidswear range for children with disabilities and it has partnered with Fashion Minority Alliance to ensure its clothing shoots are inclusive.
Paul Friston, executive sponsor for inclusion and diversity, says: "For M&S to be successful, we must understand and reflect our diverse customer base and the communities in which they live and shop."
GlaxoSmithKline
Global healthcare company GlaxoSmithKline (GSK) regularly ranks among D&I top employer lists.The company has built a sustainable strategy for D&I in the following ways:
Running unconscious bias and inclusive behaviour learning sessions for leadership. Leaders used these sessions to identify and practise new inclusive behaviours, becoming informal D&I ambassadors for their teams.
Operating Global Diversity Councils. These are working groups for ethnicity, gender, LGBT+ and disability each chaired by members of its corporate executive team, alongside employees, to push forward its D&I agenda.
Running Employee Resource Groups. These involve the coming together of groups of employees who have volunteered to share ideas and perspectives on all areas of diversity, operating across 60 markets with over 10,000 members. These groups regularly meet up with executive team members to feed back.
Holding itself publicly accountable for gender equality. GSK has publicly affirmed its goal to have at least 45% of female representation across all senior roles globally by the end of 2025.
Ensuring it rolls out gender-neutral facilities, alongside workplace accessibility for those people with disabilities.
GSK has also made D&I integral to its supply chain. It encourages diverse businesses to take part in its procurement process, while in manufacturing it has been working on improving accessibility of its products' packaging for disabled patients and consumers.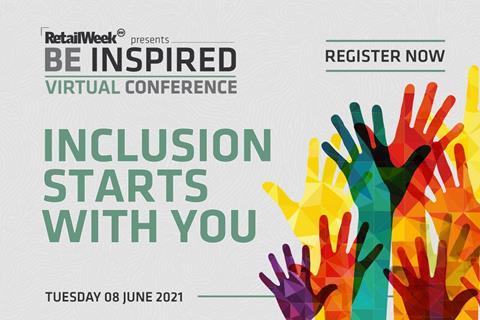 You can watch sessions from the 2021 Be Inspired Virtual Conference on demand here.
If you want to translate your passion for diversity and inclusion into tangible action, improve your own lives and positively impact the lives of other people as well, then this conference is for you. You can access the full agenda here.
Speakers included Trouva founder Mandeep Singh, Sainsbury's retail and digital director Clodagh Moriarty, B&Q's director of logistics Rosemary Wilkins and Pippa Wicks, executive director at John Lewis.

Workday is a leading provider of enterprise cloud applications for finance, HR and planning. Founded in 2005, Workday delivers financial management, human capital management and analytics applications designed for the world's largest companies, educational institutions and government agencies. Organisations ranging from medium-sized businesses to Fortune 50 enterprises have selected Workday.