Latest news, insight and analysis on Lidl
The German hard-discounter Lidl entered the UK in 1994 and at end-2011 had approaching 750 stores throughout the UK and Ireland. UK sales are estimated by RWKB at £2.65bn in 2011.
Aldi's disruptive model has led to an historic structural shift in grocery. And it's only just getting started.
Although it looks as if Justin King left Mike Coupe in the lurch, hasn't Sainsbury got a great opportunity to exploit the turmoil at Tesco?
Full company profile for Lidl, including: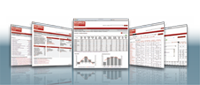 Powered by: