Latest news, insight and analysis on Lidl
The German hard-discounter Lidl entered the UK in 1994 and at end-2011 had approaching 750 stores throughout the UK and Ireland. UK sales are estimated by RWKB at £2.65bn in 2011.
Retail Week's cartoonist Patrick Blower's take on Lidl's foray into the value fashion market with the launch of its womenswear clothing range.
With Dave Lewis' arrival at a rudderless Tesco being brought forward and the warning on profits again, it is fair to suggest that all is not sweetness and light in Cheshunt.
Full company profile for Lidl, including: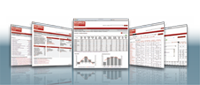 Powered by: