Latest news, insight and analysis on Lidl
The German hard-discounter Lidl entered the UK in 1994 and at end-2011 had approaching 750 stores throughout the UK and Ireland. UK sales are estimated by RWKB at £2.65bn in 2011.
Strong branding is everything in retail – Retail Week takes a look at who brand consultancy Interbrand says are the top 20 in Europe.
The crisis in grocery will not be solved by simply dropping prices.
Full company profile for Lidl, including: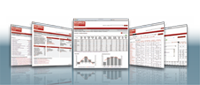 Powered by: