Latest news, insight and analysis on Lidl
The German hard-discounter Lidl entered the UK in 1994 and at end-2011 had approaching 750 stores throughout the UK and Ireland. UK sales are estimated by RWKB at £2.65bn in 2011.
Retailers must remember that while competitive pricing is important, remaining focused on their core offering and target market is essential.
Lidl has launched into the clothing market with a range that incudes a £14.99 leather jacket. But how will it fare in a very competitive market?
Full company profile for Lidl, including: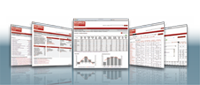 Powered by: