Latest news, insight and analysis on Lidl
The German hard-discounter Lidl entered the UK in 1994 and at end-2011 had approaching 750 stores throughout the UK and Ireland. UK sales are estimated by RWKB at £2.65bn in 2011.
The budget retailer 99p Stores is undergoing an overhaul and raising its ambitions, chief operating officer Tony Brown tells Retail Week.
The competition has once again heated up among the supermarket chains. Lidl has launched a value clothing range for women which will compete with value retailers such as Asda's George and Primark.
Full company profile for Lidl, including: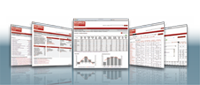 Powered by: