Latest news, insight and analysis on Lidl
The German hard-discounter Lidl entered the UK in 1994 and at end-2011 had approaching 750 stores throughout the UK and Ireland. UK sales are estimated by RWKB at £2.65bn in 2011.
Aldi and Lidl received a boost as stunning new market share data showed half of UK households shopped in the pair in the last 12 weeks. Retail Week takes a look at whether the numbers stack up.
Retail stocks across the board edged down over the week as the City suffered a case of nerves that Christmas trading has not fully taken off as hoped for.
Full company profile for Lidl, including: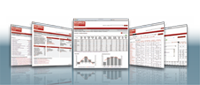 Powered by: