Latest news, insight and analysis on Lidl
The German hard-discounter Lidl entered the UK in 1994 and at end-2011 had approaching 750 stores throughout the UK and Ireland. UK sales are estimated by RWKB at £2.65bn in 2011.
The departure of Philip Clarke and appointment of Dave Lewis has highlighted Tesco's image problem and the task of turning that around.
Lidl tailoring its country-by-country retail offer will continue to improve the discounter's position both in the UK and across Europe.
Full company profile for Lidl, including: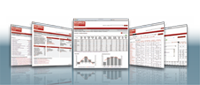 Powered by: