Latest news, insight and analysis on Lidl
The German hard-discounter Lidl entered the UK in 1994 and at end-2011 had approaching 750 stores throughout the UK and Ireland. UK sales are estimated by RWKB at £2.65bn in 2011.
It may not be the most widely reported indicator of productivity, but UK retail's sales per employee figures paint a fascinating picture.
The crisis in grocery will not be solved by simply dropping prices.
Full company profile for Lidl, including: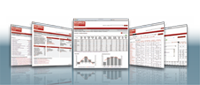 Powered by: