Latest news, insight and analysis on Lidl
The German hard-discounter Lidl entered the UK in 1994 and at end-2011 had approaching 750 stores throughout the UK and Ireland. UK sales are estimated by RWKB at £2.65bn in 2011.
As Sainsbury's small store portfolio overtakes its supermarkets for the first time and Tesco, the Co-op and Morrisons aggressively expand their convenience portfolio, the hunt for small space is intensifying.
Asda's sales have been under pressure from the discounters and it needs to work harder to win value shoppers.
Full company profile for Lidl, including: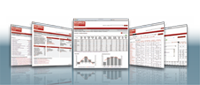 Powered by: