Latest news, insight and analysis on Inditex
The Inditex group owns Zara, Massimo Dutti, Bershka, Zara Home, Zara Kids and Pull & Bear. As of December 2011 there were just over 90 Inditex-operated stores across the UK, generating combined sales of £387m in 2010/11 and of which £332m (86%) came through the 64-strong Zara network.
Boohoo's float will value the business at £560m – is the business worth it or this more evidence of a dotcom bubble that is set to pop?
We've had some sombre news this week as four more UK retailers headed for administration, putting an estimated 2,000 jobs at risk.
Full company profile for Inditex, including: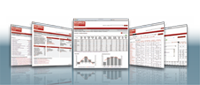 Powered by: