Marks & Spencer has launched visual search functionality on its mobile website to allow customers to search for products using a photo.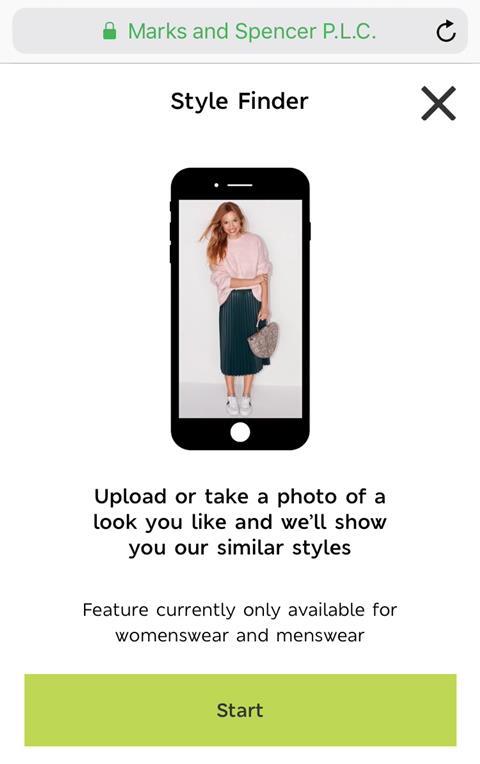 The new feature, called Style Finder, allows customers to upload "an existing photo or take a new one of any outfit to reveal similar-looking products" available in M&S stores.
Style Finder is initially being rolled out across the retailer's womenswear and menswear categories. M&S said it will allow customers to filter through "thousands" of products in less than 10 seconds.
The new technology was developed in partnership with visual search and artificial intelligence technology company Syte.
The tool uses artificial intelligence to display results and offers customers the chance to use filters to personalise their preferences based on size, price and colour.
A spokeswoman for M&S said Style Finder is being initially trialled across its fashion categories to "gauge how many customers use it and whether they report back that it improves their experience". She said there were no immediate plans to roll the technology out across M&S' wider stock.
Head of digital product and UX at M&S, Jim Cruickshank, said: "We know our customers are busier than ever and are often most inspired when they're out and about. Style Finder helps customers instantly find what they're looking for, without the need to manually search and filter through our products.
"Enhancing the customer experience is central to our digital transformation journey. This is a brilliant example of how we're becoming more relevant, more often, to our customers who are increasingly shopping online and in particular using mobile devices."
As previously reported by Retail Week, M&S is in the midst of a strategy aimed at driving a third of its clothing and home sales online by 2022.