The number of British shoppers signed up to Amazon's Prime subscription service has hit 15 million, new research has revealed.
Figures from market research company Mintel revealed that 39% of people in Britain now use Amazon Prime. Just over a quarter (26% – around 15 million people) are members themselves, while a further 13% share access through someone else's account.
The subscription service costs £7.99 a month, or £79 for a year. It gives members unlimited one-day deliveries on hundreds of items, plus access to its video and music streaming services.
Almost nine in 10 UK shoppers now use Amazon to shop online, Mintel's figures added. Its data showed 86% of British consumers used the etailer in the year to October 2018.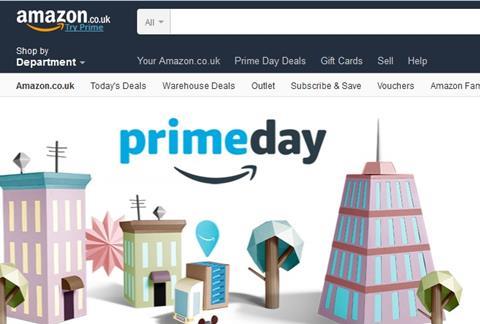 Almost three-quarters (70%) of Amazon customers said they shop with the business at least once a month, while 17% said they made purchases on Amazon on a weekly basis.
Amazon's core categories of books, video games and DVDs remained the most popular items searched for by shoppers during the year, Mintel said.
Mintel associate director of retail Nick Carroll said: "The retail giant has expanded far past the bounds of normal retail operations into media streaming, consumer electronics and cloud computing. Amazon has built a platform that customers are both happy to use, and pay for the privilege of doing so via its various subscription services."
Carroll said Amazon had continued to increase its market share by growing its Prime membership. Subscribers tend to spend "significantly more" than non-members, he said, and shop "across a broader number of categories".
Amazon has been criticised for paying too little tax in the UK compared to bricks and mortar rivals.
A parliamentary committee has called on the government to consider taxing online sales, deliveries and packaging, and cutting business rates for high street retailers.
But Carroll insisted Amazon was "not a high street killer".
He said: "Amazon's growth has no doubt wounded rivals, but it is not the high street killer that it is often painted out to be.
"It has certainly led on, and to a degree enforced, many trends that have come to define 21st-century retail; however, it is not all-conquering at present. Indeed, even if the retailer accounted for roughly 50% of the online market held by online-only retailers, it would only account for around 9% of all UK retail sales.
"Despite the popularity of online retailing as a whole, the vast majority of all retail sales – 82% – in the UK still come through physical stores. This leaves much room for its own growth but equally for rivals to fight back."