Around one in 10 people were unable to get Apple Pay to work following last week's launch of the payment service, according to a new study.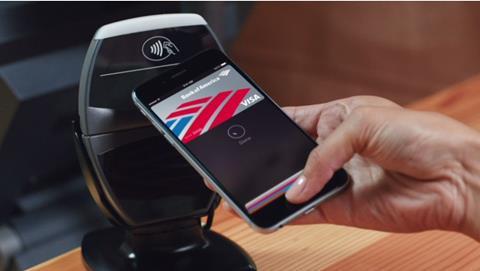 One in 10 social media posts slam issues with Apple Pay service
Food retailers bear brunt of criticism from online posts
HSBC also suffers backlash after failing to offer service as promised
The technology went live in the UK on Tuesday after months of anticipation, but millions of shoppers faced problems using the service after HSBC failed to offer Apple Pay on launch day as promised.
Retailers said they had received good customer feedback despite the teething problems, but now research by social intelligence platform Brandwatch has revealed that around 10% of users were unable to get Apple Pay to work.
Brandwatch monitored almost 16,000 users on social media and analysed 26,000 mentions of Apple Pay. One in 10 of all posts made on launch day were negative comments relating to service issues. Brandwatch said the results showed that "on the whole, it's not working so well."
Brandwatch marketing insights analyst Natalie Meehan said: "Technology like this lives or dies on word of mouth," Meehan said. "Apple Pay is positioned as being the fastest and easiest way to pay.
"If you think there's a 50% chance it could fail, you'll just reach for your credit card instead."
Retail criticism
Despite retailers including M&S and Boots telling Retail Week that customers were pleased with Apple Pay, social media was awash with negative comments directed towards certain shops, with food retailers bearing the brunt of online criticism.
Negative mentions came close to outweighing positive ones, Brandwatch said, with customers at stores including Tesco and Waitrose claiming to have been charged twice. Others complained that their local stores did not have the contactless technology installed at all.
Brandwatch said that "if one link is tarnished, it casts doubt on the whole system".
HSBC was canned on social media after failing to provide its 16 million customers with the service on launch day as promised. Negative mentions of the bank on social media outweighed positive mentions by five to one on launch day.