Uncover examples of supply chain innovation from the likes of Inditex, Deliveroo, Waitrose, Marks & Spencer, Amazon, Asos and Carrefour in our new report.
Whether it is containers stuck in ports, a lack of HGV drivers or petrol shortages, the supply chain crisis is the one thing keeping retail chiefs up at night.
Those retailers that have invested in resilient and flexible supply chains are the ones that will be reaping the rewards, crisis or no crisis. Those that have not are falling behind.
The Great Innovation Race is a new report from Retail Week that details the agile investments powering improvements across the supply chain – and CX too.
Learn from the likes of Inditex, Deliveroo, Waitrose, Marks & Spencer, Amazon, Asos and Carrefour as we uncover where retailers are investing now and in the next 18 months to drive supply chain resilience and flexibility.
Here is a snapshot of our report – the five steps to supply chain agility:
Make data your ally and take objective decisions based on rich and multi-dimensional data to predict shopping behaviour.

Design agility and resilience into your organisation to react faster to the macroeconomic environment.

Make supply chain your competitive advantage rather than a burdensome cost. Use digital tools to help stay close to inventory.

There is no one-size-fits-all approach, so start small and incrementally – build the right solution using digital tools.

Invest in sustainability. Shareholder value is changing rapidly with conscious consumers driving the future of retailing.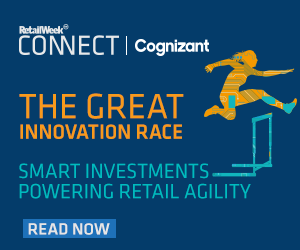 Download the free report, produced in partnership with Cognizant, to find out:
How to make impactful CX improvements now using data and insight.
Tech's role in building flexible, sustainable and resilient supply chains.
How to build data-centric business models.
Examples of retailers leading the way.

Cognizant (Nasdaq-100: CTSH) is one of the world's leading professional services companies, transforming clients' business, operating and technology models for the digital era.