Shoppers at Amazon's new bricks-and-mortar stores could pick up items and leave without immediately paying for them, according to a patent it has filed.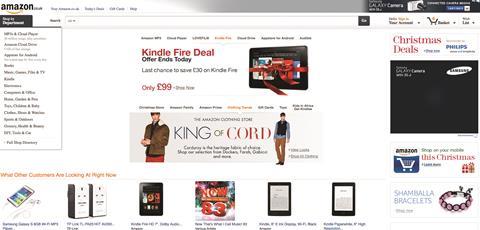 Amazon envisions a store without payment
The etail giant has filed a patent for use of in-store technology that allows consumers to delay payment
It has mooted using technology including RFID and cameras to identify products leaving stores
Customers will be charged after exiting with goods and sent digital confirmation
The technology giant has recently filed a patent to use in-store technology that allows consumers to delay payment for items picked in the shop.
The new store concept could save Amazon money because, unlike traditional retail operations, it reduces the need for cashiers.
A store would work using cameras, sensors or RFID tags to identify the shoppers and their chosen items. The shopper would then be automatically charged for the items detected as they exit the store and sent a message to confirm the amount.
The US Patent and Trademark Office said Amazon has filed for "a system for automatically transitioning items from a materials handling facility without delaying a user as they exit the materials handling facility."
The user may pick one or more items which are then "identified and automatically associated with the user at or near the time of the item pick. When the user enters and/or passes through a transition area, the picked items are automatically transitioned to the user without affirmative input from or delay to the user."
Amazon could create user profiles of its shoppers and compile information about users to create profiles, such as images from cameras, and details such as height and weight as well as user names, passwords, other biometrics, purchase history and payment information.
The patent is not evidence Amazon is at present working on delivering the technology, but it protects Amazon's ideas about the store concept.
Towards the end of last year it was reported Amazon was opening its first store in New York, while in February, the etailer opened a staffed store in an American university campus.