PAID FOR POST
The Hermes Supply Chain Blog on Retail Week
Asos shows the unrelenting pace of change in fulfillment as the etailer has made more than 100 delivery service improvements in the last six months.
But where has it made these improvements?
Speed
For Asos' impatient millennial customers, speed of delivery is crucial. So luckily for them, Asos has cut its standard free delivery time from four to three days in the UK.
The etailer has also cut down delivery lead times in a further 76 countries and has sped up its express service in another 11 countries.
It's not just about speed, it's also about informing shoppers where their order is.
Tracking – which has long been a feature for Asos customers in the UK – has been introduced on orders sent to a range of European countries.
Convenience
Asos has also made its delivery service more convenient for shoppers.
It has rolled out click-and-collect via Doddle (the third-party parcel collection service with pick-up points in locations such as rail stations) to 79 UK locations; launched next day delivery to stores in Denmark; and introduced free returns in territories, including New Zealand, Hong Kong and Switzerland.
Warehousing
Over and above these incremental fulfilment improvements, Asos is also making hefty capex investment in its warehouse facilities.
The move to a new European distribution centre will allow it to hold double the amount of its present stock and will boost capacity four-fold.
Meanwhile, it is also searching for a US warehouse – the bulk of its US orders are fulfilled from the UK – to boost efficiencies Stateside.
"Asos have certainly been busy. All of this, of course, means a lot of investment, £140m in fact – or 15.4% of Asos sales over the year"
Phew! Asos have certainly been busy. All of this, of course, means a lot of investment, £140m in fact – or 15.4% of Asos sales over the year. However, this is money well spent.
Regular readers of this blog – and my bank manager will know how enamoured I am with Asos' delivery proposition.
It's fast, it's convenient, you can even change your delivery address in-flight – everything an impatient, flighty millennial could ask for.
In my opinion, Asos' delivery is just as compelling a reason to shop with the etailer as its vast range of brands.
For other retailers, this lays down the gauntlet of what it takes to be amongst the leaders in fulfilment. A huge amount of investment and constant innovation.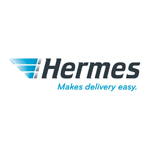 Hermes' vision is to be the carrier of choice for every end customer in the UK. The company currently delivers parcels on behalf of 80% of the country's top retailers and etailers.