PAID FOR POST
The Hermes Supply Chain Blog on Retail Week
Supply chain businesses need to react to the increasingly demanding lifestyles of consumers and update their offering accordingly.
The benefits afforded by British Summer Time are not to be scoffed at.
The extra daylight and milder weather means we now have the opportunity for evening strolls and spending more time in the garden, perhaps even choosing to fire up the barbecue. However, for many people this will also have its drawbacks – interacting with the neighbours.
Of course, many people like to have a natter over the garden fence or a quick chat while washing the car, but a report by The Daily Telegraph revealed that a quarter of people confessed to hiding from their neighbours, while another 14% admitted moving to an area where fellow residents were more inclined to "keep to themselves".
However, internal research by Hermes does seem to suggest that the 'special community spirit' often portrayed by reminiscing elderly relatives is still well and truly alive.
Our most recent Parcel Deliveries Usage and Attitude Survey – which contained responses from 2,000 UK consumers and a further 1,000 from both France and Germany – revealed that we still rely on that neighbourly spirit when it comes to deliveries.
We asked online shoppers what was their preferred option for delivery if they were not home to receive their purchases. Around two thirds of Brits (64%) and Germans (71%) said they'd like to have their parcels left with a neighbour, compared with just 31% of French consumers.
When asked why they wouldn't want their parcels delivered to a neighbour, 15% of the 4,000 respondents said that "they did not know them", while a further 11% said "they did not trust them".
More trusting shoppers
The research also revealed that UK shoppers should be most trusting, with 53% saying they were happy to have their items left in a 'safe place' in and around their homes. Our European cousins were far more cautious, with only 27% of Germans and 17% of French happy with that option.
Interestingly, despite living in the smallest of the three countries, British consumers were also prepared to travel the furthest to collect their items after a failed delivery (3.6km), more than twice the distance of the average German (1.6km) and a third further than the French (2.4km).
For all delivery companies the ultimate objective is to secure first-time delivery. At Hermes, we are very proud of the fact that our first-time delivery rate for our standard service now stands at an impressive 94.7%, which exceeds the industry average of 92.4% according to the IMRG MetaPack Delivery Index 2015.
However, we continue to work on a number of innovative products in order to save consumers from the hassle of missed deliveries.
Our Parcel Manager app provides online shoppers with up-to-date information to help avoid missed deliveries. Smartphone and tablet users can track their parcels from the hub right up to their front door; a place of work; a neighbour's house; or to one of the 5,000 myHermes ParcelShops across the UK.
We will also be releasing our 'estimated time of arrival' service later this year.
It is important for the supply chain industry to continue to invest in new services in order to satisfy the increasingly demanding lifestyle of the everyday consumer and increase first-time delivery rates – if only to avoid the short trip next door when you get home.
Martijn de Lange is operations director at Hermes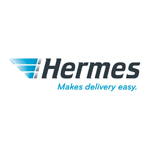 Hermes' vision is to be the carrier of choice for every end customer in the UK. The company currently delivers parcels on behalf of 80% of the country's top retailers and etailers.