Fewer store openings have led to an increase in net store closures for the first half of the year as the rise of online shopping takes hold.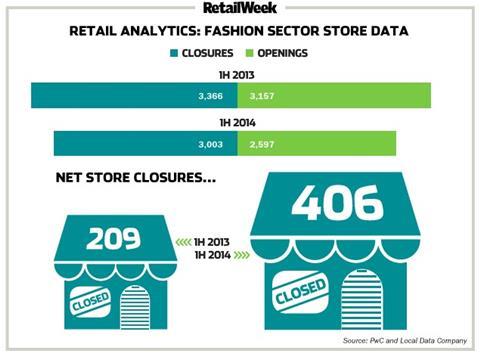 Net store closures in the first half of this year have outpaced those of the whole of 2013 due to sluggish rates of store openings, according to research compiled by PwC and the Local Data Company.
Store closures in the first six months of 2014 fell to 16 per day, compared with 18 in the same period last year. However, fewer store openings – 2,597 in the first half of 2014 compared with 3,157 in the first half of 2013 – led to a net closure of 406 shops.
That compared with 209 net store closures in the same period of 2013, and 371 for the whole year.
The shuttering of Albemarle & Bond and Blockbuster stores contributed to 3,003 total store closures in the first half, compared with 3,366 in the same period last year.
PwC retail lead Mark Hudson said the growing influence of online has led to retailers to halt store expansion.
He said: "We are now really starting to see the full effects of the digital revolution and consequent change in customer behaviour play out on the high street.
"Although the rate of growth of online sales is slowing, it still far outstrips store sales growth for most retailers."
Fashion retailers were among the hardest hit. Forty-three menswear shops closed, reducing the UK's total by 7%, and 66 womenswear stores shuttered, cutting the total by 4.8%.
PwC insolvency partner and retail specialist Mike Jervis said: "The fashion sector is on the back foot, due to too many similar formats and online trends."
Shop closure rates are poised to escalate after the recent administrations of Phones 4U and La Senza in the third quarter. Net closures in the year to date rose to 964.
Bookmakers, cafes, pound shops and charity shops were among those opening the most outlets during the first half of 2014.
There were 63 additional betting shops – a rise of 2.5% – and 33 more charity shops, an increase of 4% during the half.