PAID FOR POST
More voices from the retail industry
As retailers continue to be blighted by increasing costs, 4C Associates' Kenta Shibuya examines how the direct-to-consumer model can help boost bottom lines
The retail sector experienced numerous challenges simultaneously this year – ongoing supply chain disruptions from the pandemic and geopolitical crises; rising energy prices; inflation; and changing economic policies.
While businesses are struggling with increasing costs, consumers are slashing discretionary spending, disproportionately impacting the retail and hospitality sectors.
In these turbulent times, the retail sector is on the hunt for measures that can help improve profitability and reallocating your resources toward direct-to-consumer (D2C) commerce is one strategic decision that could do just that.
What are the pros and cons of D2C?
Because D2C removes barriers between a brand and its consumers, businesses can expect various benefits.
First, D2C can enhance the brand's image by controlling the end-to-end buying journey from brand awareness to conversion to retention.
Second, D2C can pinpoint marketing targets using a wealth of consumer behavioural data.
Third, D2C can improve the brand's profitability by removing rebates to distributors and/or wholesalers.
While there are benefits to D2C models, businesses intending to select D2C as their trading model should be aware of the increased responsibilities as a brand.
D2C brands are responsible for managing product manufacturing and distribution, online and offline marketing and customer support.
Is D2C different from ecommerce?
Yes – because D2C does not restrict the brand offer to solely online channels. For instance, Gymshark recently opened its first retail store on Regent Street, the heart of London's shopping district. Businesses operating under the D2C model typically use the following directly operating offline channels:
Retail stores with multiple functionalities (eg: a showroom or a click-and-collect and a return point)
Shop-in-shops in third-party retailers' stores
Pop-up shops
Is it worth the investment?
Yes, but remember that Rome wasn't built in a day.
Nike is a good example of a brand undergoing a D2C transformation over time. Unlike brands established as exclusively D2C, Nike still generates more than 50% of its global revenue from the 'traditional' business model – sales through distributors and wholesalers.
The following chart illustrates how Nike has increased the proportion of D2C sales against the overall revenue and improved the company's gross margin over the years.
Whilst the gross margin in 2020 had decreased due to the pandemic, Nike has been successful in converting its customers to buy products directly.

Nike also reveals that there is a geographical difference in the penetration rate of the D2C trading model (see chart, below).
The key takeaways for brands that are or will be going through D2C transformation are that the 'traditional' business model – sales through distributors and wholesalers may work better in certain markets due to the following reasons:
Target market size is too small
Target market's consumer acceptance of online shopping is low
Target market's infrastructure is too fragile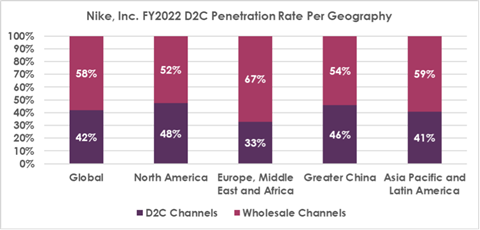 There are three key investment areas to accomplish a successful D2C transformation for business leaders: technologies; digital marketing; and supply chain.
How can I optimise my supply chain?
Whether your brand is operating solely on the D2C business model or the D2C and traditional hybrid business model, we recommend diagnosing your existing supply chain network.
Planning a pathway for future growth by analysing your supply chain strategy and operating model will aid with profit maximisation opportunities as well as boost network and logistics optimisation leading to a brighter horizon for your business.
Kenta Shibuya is a consultant, network and logistics optimisation lead at 4C Associates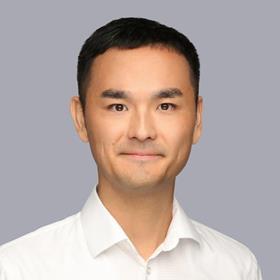 Shibuya is a management consultant with over six years of experience gained in the consumer electronics, aerospace and automotive industries across Europe and Asia. He has led a wide range of supply chain projects including network and logistics optimisation and end-to-end planning, forecasting, and execution. He has a strong academic background with a master's degree in Supply Chain and Logistics Management from the University of Warwick.

4C Associates is a leading European procurement and supply chain consultancy, who work collaboratively with forward-thinking clients to deliver real business value across a wide range of transformation and cost optimisation service offerings. With a proven track record across multiple industries and geographies, 4C Associates are practitioners, not just advisers, who deliver results with their clients, every step of the way.