PAID FOR POST
More voices from the retail industry
Our wellbeing festival proves that retail is not just an industry but a community that is stronger together, says Retail Trust's Chris Brook-Carter
More than 1,000 retail colleagues from across the country will come together at the Truman Brewery in London on Thursday, in what I believe to be a powerful demonstration of the UK retail sector's collective commitment to improving staff wellbeing.
Amid retailers' efforts to face into a social climate that is increasing workers anxiety and ensure the industry is a happy place to work, Together Fest – the Retail Trust's wellbeing festival for retail workers – will unite employees from more than 200 of our partners, from H&M and Next to Starbucks and Domino's, all with the aim of providing their people with a brilliant restorative day out.
We wanted to build on the strengths of our first Together Fest last year and – led by an impressive and long list of well-known names and wellbeing experts – it will feature an array of talks, masterclasses and interactive sessions on everything from preventing burnout, making healthier lifestyle decisions, improving sleep, banishing imposter syndrome, laughter yoga and healthy cookery demos.
The event is a truly brilliant day – joyful, inspiring and entertaining – but its significance goes far beyond the day itself and serves as an important response to our concerns about the wellbeing of the retail workforce.
"Eight out of 10 staff were experiencing declining mental health"
We know that the ongoing uncertainty and anxiety surrounding the future of the industry, compounded by the long-lasting pressures of working through the pandemic and the current cost-of-living crisis, is leading to often unmanageable stress and burnout, and deterring many people from forging a career in retail.
Retail Trust data from last year found that eight out of 10 staff were experiencing declining mental health due to factors ranging from post-pandemic fatigue to rising customer abuse and difficult financial concerns, while around 30% of people working for the UK's biggest retailers told us they were considering leaving the sector for good.
We believe this underscores the importance of the Retail Trust's mission to improve the hope, health and happiness of those working in the industry, for the sake of our people and for the future of a sector that can only ever be as strong as its workforce.
This is why we must all be equipped with the right tools and resources that can help us to improve our wellbeing and foster a real sense of pride in working in retail.
Together Fest brings to life this ethos of creating a healthier, happier retail industry. An industry where individuals feel empowered to take control of their mental health and where this is not just encouraged but embedded in the fabric of businesses' work culture.
I am inspired by the tremendous efforts being made by the organisations and individuals we work with to improve wellbeing within our industry, whether it be bringing their staff to this year's Together Fest or taking the vital steps needed to normalise the conversation around mental health and promote an open and comfortable dialogue about wellbeing.
"We're a community that is stronger when it works together"
They see it not just as their moral imperative but a strategic investment, as they understand that the health of their employees has a direct impact on the productivity, creativity and overall success of their organisation.
But I am still very aware that our mission at the Retail Trust is far from complete.
There are millions of people in the UK who work in retail, many of whom continue to face ongoing uncertainty, stress and risk of burnout, and still aren't receiving the support they need.
Events like Together Fest prove that we are not just an industry, we're a community that is stronger when it works together, but we desperately need more and more people, leaders and retailers to believe in and get behind this cause.
Ultimately, we need the UK retail industry to be known not just for its brilliant services and products, but also as a champion of staff wellbeing. And going by the number of people and retailers set to join us on Thursday, I am confident that we can make this vision a reality.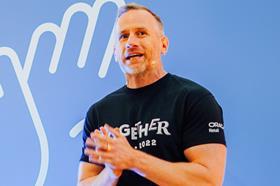 Chris Brook-Carter is chief executive of the Retail Trust

The Retail Trust is a registered charity that aims to support those working and retired from the retail industry in the UK.