PAID FOR POST
More voices from the retail industry
New payment regulations will increase the security shoppers face when checking out online, but what does this mean for retailers?
75% of European online retailers are potentially unaware of a new payment security standard that will come into effect from September 14 this year, according to recent Mastercard research.
Retailers need to prepare themselves for when this new industry standard, designed to provide another layer of security, comes into play.
"If retailers aren't ready for the September 14 deadline, there is potential for transactions to be declined"
The good news is that with this new regulation comes the opportunity to further optimise the checkout experience for your customers, while radically improving your bottom line through a reduction in cart abandonment and improved security.
The bad news? If retailers aren't ready for the September 14 deadline, there is potential for transactions to be declined.
What exactly is happening?
The rules, which apply across Europe, aim to tackle online fraud by increasing the number of transactions subject to two factors of authentication by the payer, known as Strong Customer Authentication (SCA).
Currently just 1% to 2% of online card payment transactions require cardholder authentication at the checkout, most likely using a password.
With the new regulations coming into play, Mastercard estimates this figure is set to rise to up to 25% of payments from this autumn.
Authentication for online payments and account access will be based on the use of two or more different factors in the future:
Something you know, such as a password
Something you have, such as a phone or card
Something you are, such as a fingerprint.
What does this mean for retailers?
As SCA is mandatory under the Payment Services Directive 2, retailers will need to be able to accept the two-factor authentication process at checkout from September 14, 2019.
To get ready for what is to come:
Get in contact: speak to your acquirer or payment service provider to ensure your business is ready and enrolled for Mastercard's Identity Check.
Educate your customers: let them know you will be making changes to their payment experience, highlighting the benefits for them – no need to remember passwords and a likely reduction in fraud.
A biometric future
With this new EU regulation coming into place in September, Mastercard is predicting a significant increase in the use of biometric technology to authenticate who is paying.
Aimed at delivering a smoother online payment experience for consumers as this change takes effect, biometric solutions for cardholders use a fingerprint and facial recognition to verify their identity using a mobile device during online shopping and banking activities.
With this approach, the digital checkout time is dramatically shortened, security is improved and cart abandonment rates are reduced.
David Jones is vice president of business development at Mastercard.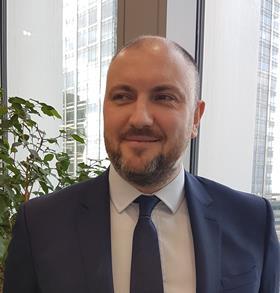 Mastercard has been leading the advancement of biometric technology in payments for years, with a focus on improving both consumer experience and security online and offline.
Click here to discover how Mastercard can help you create a better digital payment experience.


Make checkout smoother and safer for your customers.