PAID FOR POST
More voices from the retail industry
Ahead of the 2018 Digital Signage Summit Europe, chairman of the conference Florian Rotberg discusses how new technologies are empowering retailers to generate compelling business strategies.
In the retail world the industry is tackling two key trends – the decline of bricks-and-mortar stores and the increasing dominance of online retailers such as Amazon.
Despite this, many retail transactions are still completed offline. To help drive further in-store purchases, retailers are looking at ways in which their traditional stores can become experiential destinations with exciting technology.
"By adding value through improving customer engagement, retailers can bridge the online and offline worlds"
Digital storytelling and digital touchpoints are two of the ways improved customer engagement can be achieved.
By adding value through improving customer engagement, retailers can bridge the online and offline worlds.
Creating an inspiring experience
Digital technology, such as digital signage, electronic shelf labels and new screen technologies such as LED and OLED, needs to inspire visitors to the store and can't be used just for its 'wow' factor.
Finding a balance between customer demands and expenditure, retailers must also place themselves in the shoes of their customers and ask, 'what adds value to this experience?'
Shareable moments
Building on this, more and more brands are creating 'shareable moments' in store for customers to enjoy and, more importantly, share.
At a recent pop-up, Google created a giant sphere complete with tablets to enable a live photo display, prompting customers to take pictures of themselves in front of their own images.
This concept provides longevity, thanks to social media, as well as a reason for customers to visit and experience the store.
Technology can also assist with wayfinding (directing shoppers around a store) and can also identify customer profile types as well as provide more specific directional information.
Using your data
As with any investment, the ability to analyse the potential return is extremely important. By integrating data management into a digital campaign, retailers can benefit from actionable insights. A digital environment enables content to be changed quickly to highlight new products or promotions.
The Digital Signage Summit
The Digital Signage Summit Europe 2018 will unlock the power of combining technology and content for retailers looking for new ideas, concepts and products.
Making its Frankfurt debut, DSS Europe (July 4-5, 2018, at the Sheraton Hotel, Frankfurt Airport, Germany) combines a conference programme, exhibition, workshops and networking events to deliver a business roadmap for integrators, end users and manufacturers.
The two-day event represents a joint venture between Integrated Systems Events, producers of the Integrated Systems Europe exhibition, and Invidis Consulting, a leading German digital signage consultancy.
Visitors to the summit in July will benefit from a conference and workshops delivered by more than 40 industry experts.
The standard ticket price is €690 (plus VAT), which includes access on both days to the conference and exhibition, food and drink, and entrance to the evening event on July 4. For further information and to register for the event, please visit: digitalsignagesummit.org/europe.
The key challenges with digital signage projects:
A digital strategy is planned separately from the in-store concept
No data management system is put in place to facilitate return-on-investment calculations
Only the initial content creation is considered, providing no longevity for the campaign thereafter
Digital concept is not scalable beyond the initial flagship store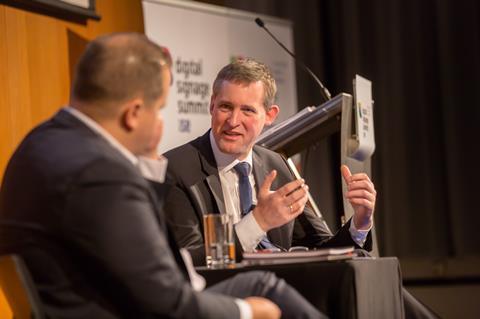 Florian Rotberg is chairman of the Digital Signage Summit Europe conference and managing director of Invidis Consulting

Learn from the world's leading Digital Signage industry leaders, entrepreneurs and mavericks at Digital Signage Summit (DSS) ISE. DSS ISE gives you unparalleled insights into trends and strategies of the industries brightest, most talked about and controversial minds.