Debenhams launches drive-thru Valentine's shop, Bunnings' Sausage Sizzle gets a grilling, and Amazon's Jeff Bezos takes to Twitter to fill the impossible job.
Debenhams launches drive-thru Valentine's shop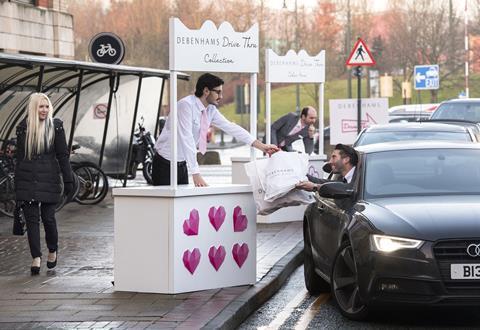 Lazy other halves have been known to make a dash to the petrol station to grab a last-minute Valentine's gift. However, thanks to Debenhams, there's now more on offer than lacklustre roses or a Toblerone.
The department store has set up a drive-thru outside its Manchester Trafford Centre store this week for Valentine's shoppers who want to buy a present without the effort.
Debenhams is selling a lingerie set and a chemise, men's trunks, perfume and Champagne that shoppers can pick up without leaving their cars.
There's romance for you.
Bunnings' Sausage Sizzle gets a grilling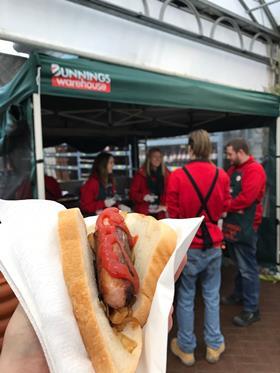 The excitement surrounding Bunnings' Sausage Sizzle has arguably outstripped that of the first UK store opening itself.
An Australian expat, Sam Ashleigh, took the effort to venture to the new store in St Albans to review the basic sausage snack, and check that the UK incarnation lives up to its giddy reputation.
Filming the experience, she said: "I'm on a mouth-watering journey to have my first Bunnings snag in the UK."
When Ashleigh arrived, she delivered her verdict: "The bread is fresh and the sausage is juicy with a great texture and smoky BBQ flavour.
"I think it's worthy of the Bunnings name," she said.
Well, thank goodness for that.
Bezos tweets to fill the impossible job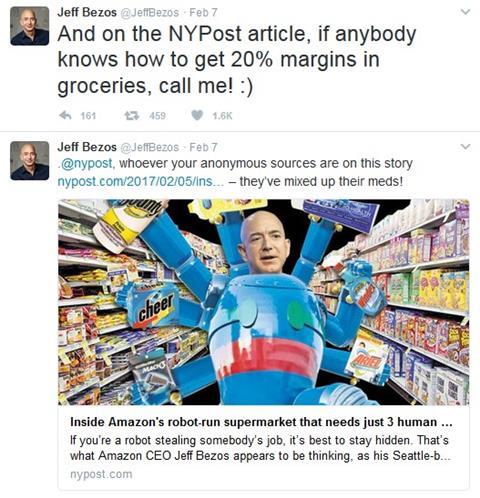 We all know the struggle retailers are facing in boosting the profitability of their online grocery operations.
And it seems Amazon founder Jeff Bezos has taken to social media for help to do just that.
Bezos joked on Twitter that the sources of a New York Post article had "mixed up their meds" after the newspaper claimed Amazon was about to launch a "robot-run supermarket that needs just three human workers".
On the article's bold claim about Amazon's grocery margins, Bezos added: "If anybody knows how to get 20% margins in groceries, call me!"
That's one tough job spec to meet.