Business leaders are looking for expertise outside of their organisations to support their ongoing data strategies, a report from Retail Week has found.
Three-quarters of UK retailers are planning to invest more in their data strategy, and while upskilling internal data teams is the number one priority for 74%, both purchasing external data and hiring data consultants also feature in their investment plans. Almost a quarter (24%) put engaging third parties for data analysis support in their top three.
These were some of the findings from Knowledge is Profit, a Retail Week report containing exclusive research and in-depth interviews with 57 retail leaders.
Delving into strategic and investment data priorities, the report finds that 48% of those surveyed said they have struggled to find candidates for data roles, with 36% saying their organisation has an insufficient data skill set.
"Hiring more big data engineers is high up on our current agenda"
Speaking to Retail Week, Shop Direct CTO Andy Burton said: "We still want to bring in new tech and data talent and have gaps that we're looking to fill. Hiring more big data engineers is high up on our current agenda."
While Shop Direct largely keeps data analysis in-house, it also works with some third-party agencies.
This speaks to a common trend, which sees retailers employ outside services to quickly and effectively find a data solution when they have the skills – but not the resource – to do it themselves.
Data – the difference between retail leaders and laggards
The case for embedding data in every business function has been made time and time again – and retailers are catching on.
But, without the right expertise to capitalise on this information, retailers are left drowning in huge swathes of data, with only a fraction being used to maximum effect.
As the data revolution rolls on, the gap between those winning with data and those struggling to keep up is widening.
Only by focusing on what they truly need to know about their customers and business operations, can retailers tailor data solutions to achieve optimum ROI.
Download your free copy of Knowledge is Profit today, and discover:
The transformative effect of transactional data in strategic decision-making
How AI-powered data is changing the game in hyper-personalisation
The best retail use cases of harnessing data to achieve ROI
How third-party data services are reinforcing retailers' internal teams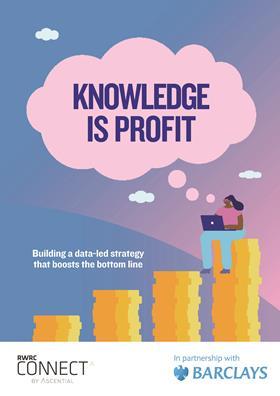 How can data transform your retail business?
Find out in Knowledge is Profit, Retail Week's latest report
Download your copy to understand how to harness the latest data solutions to generate maxinimum return on investment.
Barclays Market and Customer Insights unlocks a wealth of customer transaction data and brings it to life so you can take action and shape your strategy. We can help you keep up-to-date with spending trends, monitor your market position and enhance your understanding of customer behaviour, based on actual customer spending. Leveraging anonymised data from our 250 million monthly customer transactions in the UK can help you understand who your customers are and how, when, and where they spend. For further information on how Barclays Market and Customer Insights can help you, visit insights.uk.barclays/MCI or email contact-MCI@barclays.com