Dutch value retailer Hema has launched its transactional UK website but its boss has said he does not expect it to generate a profit.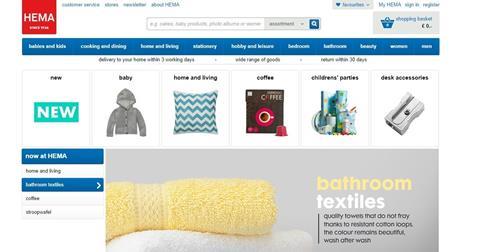 Hema chief executive Ronald van Zetten said the website, which launched yesterday and follows three London store openings in June, said the website will help Hema to generate brand awareness across the UK.
But he said due to the low margins in the value retailer, it is unlikely to make a profit.
He said: "For customers to see the wide ranges and test the items. I think from a marketing point of view it can be useful to have it but it's fair to say that because of low margins due to our low prices it is not going to make any money."
Value retailers such as fashion player Primark have found it difficult to launch online with a viable business plan due to the associated overheads and because of low product prices. However, single-price point retailers Poundland, Poundworld and 99p Stores expect to launch a transactional site before the end of the year although it is not clear what business model they will use.
More Hema sites
Van Zetten said online makes up 14% of its business in the Netherlands but he admitted that Hema "probably can't reproduce this in the UK".
He added: "The UK is known as the largest market in online retail, so I think we can learn a lot from it as the demand for products is huge. It helps us to see if there is demand outside of London."
Hema is now eyeing more sites in the UK, following the successful launch of its first three.
Hema customers have access to 25,000 lines online compared to 6,000 in its larger stores. Van Zetten said online orders will enable Hema to decide what products to introduce into its stores, as they have access to new categories online, such as clothing, which is currently not sold in its UK stores.