Notonthehighstreet.com has vowed to focus on its core UK business and expand its product range after it pulled its German site last year.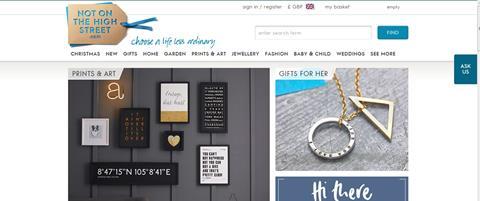 The online marketplace's chief financial officer David Phillips, who joined the retailer in July, said the business had shut down its Germany operation in August last year, a year after launching its ecommerce website in the country.
Phillips told Retail Week: "We learnt a lot [from the German expansion] but didn't get the results we wanted out of it so we've stepped away from that."
The online retailer received £21m investment in its latest funding round in August, led by technology and media company Hubert Burda Media, which Phillips said has "a very clear view on which markets we can expand into".
However, Phillips added that international expansion was not an immediate priority for Notonthehighstreet over the next 12 months.
"It's absolutely on the road map of things we're going to get to but we're very excited about what we see in terms of our core business in the UK and looking at other category expansion as well," he said.
Revenue up, losses down
Notonthehighstreet's full-year accounts for the year ending March 31 were filed at Companies House this month. The etailer recorded a 19% rise in revenue during the period to £38.7m, while losses narrowed to £1.6m.
Phillips attributed the retailer's losses to its continued investment in its technology platform.
"We've got a multi-year plan to carry on investing so we're not expecting large upticks in EBITDA, certainly in the near term," he said.
"The concept for us as a retailer is put products that are new and on-trend and in the right categories in front of our customers, so that is where the technology investment is going."
He added that the retailer was focused on expanding its offer for Christmas trading and beyond.
"We are a leading destination as a gifting site but there is an absolute desire to expand into new categories, to expand the customer experience obviously online, but also offline is not off-limits either," he said.
"We are going to keep developing our offer to ensure customers see us as not just an online experience."