Electricals goods are forecast to become the biggest online market by surpassing fashion sales this year, according to Mintel research.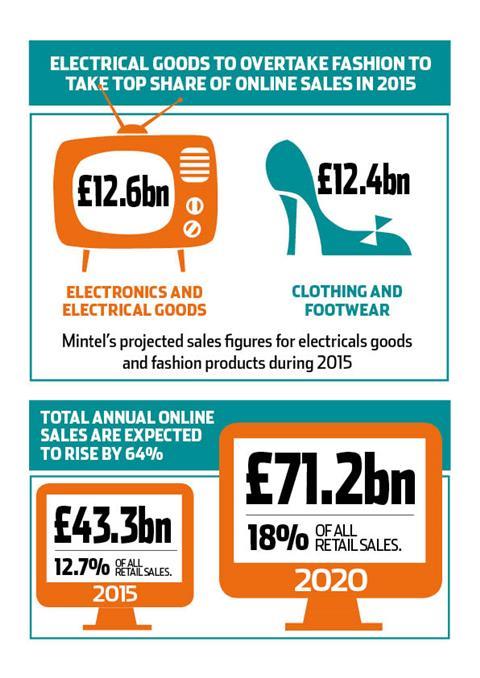 Electricals to take 29% of online market share
Half of electricals sales expected to be made online this year
Electricals sales forecast to hit £12.6bn; fashion expected to reach £12.4bn
Sales of electricals are predicted to take a 29% share of all online retail sales this year and are forecast to hit £12.6bn, up from £10.7bn last year.
Meanwhile, sales of clothing and footwear are forecast to reach £12.4bn this year, £190m behind sales of electrical goods.
Mintel predicts almost half (48%) of electricals sales in 2015 will be made online, up from 38% in 2014. In comparison 19% of all fashion sales and 6% of grocery sales are expected to be online this year.
The predicted surge in online electrical sales comes despite a resurgent Dixons Carphone being boosted by strong in-store sales, which Ao.com admits have created much tougher market conditions for the pure play white goods specialist.
Online vs stores
Mintel director of retail research Richard Perks said: "Online is best at selling goods which are bought on specification or where a wide range is demanded – so books, music and electronics."
Online retail sales across all sectors are expected to hit £43.3bn in 2015, making up 12.7% of retail sales.
Mintel also estimates web sales by pure-play retailers will overtake online sales by store-based retailers for the first time by the end of 2015.
Perks added: "For online pure-plays the challenge will be to provide the levels of service that store-based retailers are able to offer.
"We are starting to see some of them open physical outlets but this is likely to increase their costs and further erode the price difference between in-store and online. For store based retailers the distinction between selling online and in-store is becoming increasingly academic as shoppers use them interchangeably."