Tesco reveals partnership with Arcadia in five Extra stores
Tie-up will see Dorothy Perkins, Burton and Evans open shop-in-shops
Tesco says concessions will "complement" existing F&F offer
Comes as rivals Sainsbury's and Asda reveal investment in stores
Tesco has struck a partnership with Arcadia that will see the fashion group open shop-in-shops across five of the grocer's larger stores.
The supermarket giant is seeking to make better use of excess space in its bigger sheds to transform them into shopping destinations and meet customer demands for a wider fashion offer.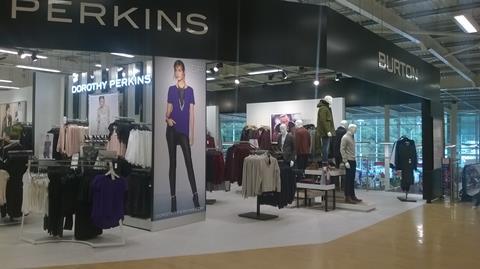 Boss Dave Lewis made regaining competitiveness in the UK business one of his key priorities after taking the reins last September and is keen to continue a trend that has seen Tesco start to entice customers back into stores.
The grocer said till transactions and sales volumes rose 1.5% and 1.4% respectively in the 26 weeks to August 29, while Kantar data estimated it had attracted 140,000 new shoppers this year – and Tesco believes the new partnership will further help it meet the needs of its customers.
Shop-in-shop openings
Arcadia brands Dorothy Perkins and Burton will open in five Tesco Extra stores across the UK, while Evans will have concessions in four.
The fashion specialists will be joined by Claire's Accessories, Pavers and Sock Shop, which have also taken space in various Tesco stores.
Tesco's Extra stores in Horwich and Culverhouse Cross opened shop-in-shops for all six retailers yesterday. Its Chesterfield Extra store will also host all six concessions, which are due to open on November 2.
All three Arcadia fascias will launch shop-in-shops at the grocer's Woolwich store on November 2, with Bradley Stoke opening Dorothy Perkins, Burton and Claire's Accessories concessions on the same day.
Tesco said its customers in the five locations were "particularly keen" to have more fashion shopping options in store, but insisted the concessions would "complement" the existing offer of its own F&F fashion brand.
The grocer said it had refitted its F&F and general merchandise departments in the five stores as part of the rejuvenated proposition.
A Tesco spokesman said: "We're always looking at new ways our stores can best serve the needs of local customers. Customers in the five locations told us they'd like to see more fashion options in their local area, so we decided to trial introducing some great brands to each store which complement our existing offer."
Big four adapt
The changes come days after big four rival Sainsbury's unveiled a raft in changes in its convenience stores and supermarkets designed to cater for changing shopper habits.
In six of its larger stores, Sainsbury's is piloting a bigger food to go and fresh food area, including bakeries, which have been created at the front of the shops by the checkouts.
Other less frequently purchased or commodity groceries, such as canned goods, have been rationalised and positioned towards the rear of the store, while the extra space created has allowed more square footage to be dedicated to clothing, kitchen and homewares after customers asked to have bigger ranges in those categories.
Sainsbury's is also testing an early version of the SmartShop app, which will eventually allow users to make shopping lists at home using their smartphones and enable mobile payment at dedicated checkouts.
The grocer has penned concession deals with Jessops and Argos within the past 12 months as part of an initiative to "bring extra choice and convenience" to shoppers.
Fellow big four competitor Asda piloted a tie-up with French sports giant Decathlon at its Watford superstore and has also tested a new format in a range of larger sheds, which has seen its fresh offer moved to the front, a new cafe format introduced and its George fashion and home departments revamped.
Last week the grocer said it was prioritising investment in 95 of its larger stores and putting the brakes on the roll-out of click and collect sites as it bids to "address the fast-changing needs of its customers."