Tesco and Sainsbury's have urged suppliers to collaborate with them to drive etail innovation and ensure standards do not slip online.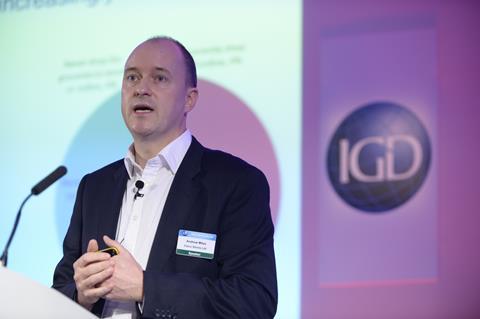 Sainsbury's head of trading, content and merchandising Mark Felix called on suppliers to dedicate more management time to their products online and admitted the retailer had left promotional gaps online akin to empty shelves in store.
He told suppliers at the IGD Online Grocery Retailing Conference in London: "We have all been guilty at times of leaving key promotional space empty online.
"I ask you, give online the management time and the focus it needs this year. Let's collaborate."
Felix said the relaunch of Sainsbury's grocery website last week had allowed it to introduce more supplier content such as videos as well as enhanced product details and shop-in-shops.
Tesco online marketing director Andrew Miles urged brands to "trade the web like a normal store" and use its Dunnhumby data to drive innovative ways of marketing to shoppers online.
He said: "Think about what the equivalent of shelf-edge marketing cIn-store navigation apps have been tested in the US and Asia and it is understood Tesco is poised to introduce a similar service. Marketing Week reported Tesco is to pilot an iPhone app named MyStore in its Chelmsford store later this month.ould be for you. Yesterday's differentiators are today's hygiene factors."
Miles also told suppliers "do not forget the basics" in ensuring they upload photography and detailed product descriptions online and to help Tesco breed a culture of innovation.
He said: "I'm very aware that it has not always been as easy as we would like in the past. But I'm determined as we move into a new era we share our ambitions and resources."
He cited campaigns such as a Tropicana marketing drive in which the drinks brand gave away its products to loyal Tesco Delivery Saver customers which subsequently attracted new shoppers to the drink.
Tesco holds around half of the UK online grocery market share via its £2.3bn digital food arm.
Retail Week revealed last month Tesco has asked suppliers to aid a drive to introduce new products which will make up 10% of its sales by 2016.
Google senior industry retail head John Gillan told the conference the search engine is busily mapping shops across the UK with its Street View service and in future customers may be able to shop the store via the 3D map service.
Innovation watch
Retail Week takes a look at three innovations discussed at the conference
Recipe and meal-planning website KitchMe has launched a search engine within Google Glass which allows consumers to view recipes - which could in future link to transactional baskets - in the glasses as they cook. Gillan said: "It allows them to find a recipe so they can cook in the real world and then find information in your eyelid. It is not distracting at all, it's a little glimpse into what's round the corner."
Gillan also cited an innovation in Brazil in which mustard brand Hellmans had used technology to print recipes on till receipts based on products purchased in that shop.
Ocado director of marketing and grocery Lawrence Hene said the etailer is testing a system whereby a sample of shoppers receive free samples and review them online to drive loyalty.