Sir Terry Leahy is to retire from Tesco in March 2011.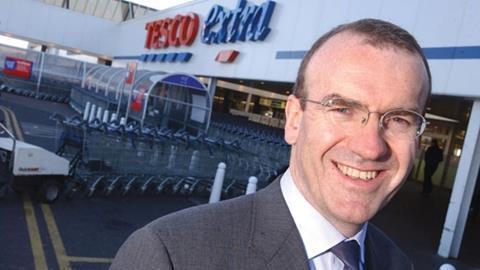 Leahy, aged 55, will retire after 14 years as chief executive and international director Philip Clarke will take over.
Chairman David Reid said: "Terry has made an unrivalled contribution over a prolonged period. He is undoubtedly one of the leading businessmen of his generation. He has put in place a strategy which can secure the progress of Tesco for years to come."
Leahy said: "When I became CEO I had a plan to build Tesco around its customers, to make it number one in the UK and to find new long term growth in non-food, in services and in international expansion. I wanted to develop a purpose and values that could sustain Tesco through its challenges and encourage and grow future leaders.
"It has taken 14 years but that strategy has become a firm reality now and so I feel my work is almost complete.
"I am delighted Phil Clarke has accepted the role of CEO from March 2011. I have worked with Phil at Tesco for many years and I am confident he has all the necessary talent, energy and experience to take the group forward. He will be supported by an outstanding team of senior executives who together represent one of the strongest leadership teams in the world of retailing.
"There is no better job than leading Tesco and after retirement I will concentrate mainly on private investment. I will, of course, keep a large shareholding in Tesco and remain its biggest supporter."
Clarke, 50, has worked at Tesco throughout his career, spending many years in retail and commercial. He joined the board in 1998 and currently has responsibility for the group's international operations in Asia and Europe as well as group IT.
Tim Mason, 52, chief executive of Fresh & Easy in the US, will be given additional responsibility for branding, values and climate change and will become deputy chief executive of Tesco. He will continue to be based in the US.
David Potts, 53, will become the first chief executive of its Asia business. He is currently retail and logistics director in the UK.
Richard Brasher, 49, currently commercial director, will assume the newly-created role of chief executive of the UK business and take responsibility for the republic of Ireland.
Andrew Higginson, 52, will continue as chief executive retail services comprising Tesco Bank, and Tesco Telecoms, and Tesco's internet business, and Dunnhumby.
Laurie McIlwee, 48, will continue as Finance Director. Lucy Neville-Rolfe, 57, will continue as Corporate and Legal Affairs Director.
Trevor Masters will continue as CEO Central Europe and Turkey. Gordon Fryett will head up Property across the group. A new group Commercial role will also be created.
Philip Clarke said: "I am honoured and delighted to succeed Terry who has taught me so much. I am very excited by the opportunity to lead such a fantastic team of executives, many of whom I've worked with for years. Together we will build a global business which focuses on the customer and fully respects our people, our communities, our supply chain and our shareholders."