Google has unveiled Android Pay as it seeks to reinvent its mobile payments efforts following the successful launch of Apple Pay.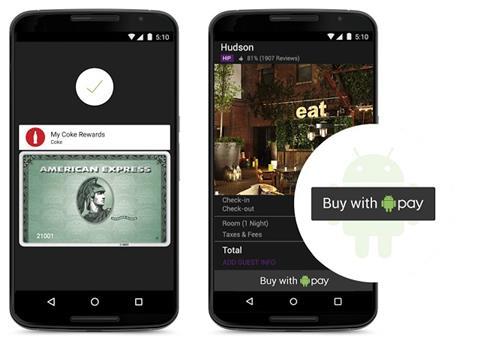 Android Pay can be used at 700,000 stores in US
Retailers can integrate their loyalty schemes into Android Pay
Google has struck a deal with MasterCard and Visa to launch it
Android Pay has struck a deal with 13 financial institutions that will allow shoppers with an Android smartphone to make contactless payments with their devices in 700,000 stores across the US.
The payment method will be available to use in any stores that accept contactless payments, which includes major retailers such as Macy's and Bloomingdale's.
Google unveiled its Apple Pay rival at its I/O developer conference yesterday and said the proposition is built on the three pillars of "simplicity, security and choice".
Google vice president of engineering Dave Burke said: "It is simple because all you have to do is unlock your phone like normal, place it in front of the NFC terminal to pay and there is no need to open any app.
"We believe the same partnership model that fuelled Android's growth from a single device seven years ago to more than a billion users will enable Android Pay to be successful too."
Burke explained the payment method was secure because when a card is added to Android Pay it creates a virtual account number that is used to process any payments so the actual card number is never shared with the store during the transaction.
Google has partnered with companies including American Express, Discover, MasterCard and Visa to allow this security tokenisation.
Android Pay differs from Apple Pay because it is an open platform. Users can operate Android Pay either through the dedicated app or supported banking apps, while the payment method has also been integrated into third-party apps including Groupon, Lyft and GrubHub.
Android Pay can also integrate with retailers' loyalty programmes to allow special offers to be applied at checkout.
Google has already partnered with Coca-Cola to allow customers to automatically apply MyCokeRewards benefits when they buy a Coke at a vending machine using Android Pay.
Apple has stolen a march on Google in the mobile payments space after the latter's attempt to crack the sector with its ill-fated Google Wallet.
In January Apple boss Tim Cook revealed Apple Pay had grabbed two-thirds of the contactless payments market on Visa, American Express and Discover cards within weeks of launching.
However, this was from a relatively low base because contactless payments are a lot less widespread in the US than in the UK.
Android Pay will also have to compete with other mobile payment initiatives being launched by manufacturers that use the Android platform such as Samsung, which has launched Samsung Pay.