Dreams is confident it can turn a profit this financial year after reporting a loss in its most recent trading period.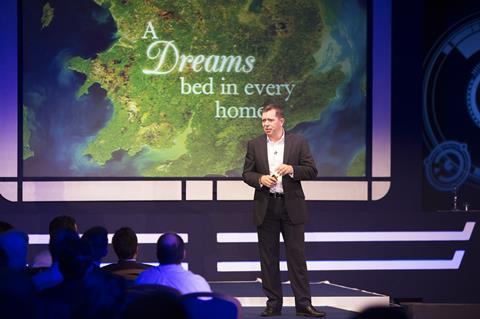 The beds retailer forecasts a £5.5m EBITDA profit for the current financial year ending December 24, after posting a EBITDA loss of £3.7m for the nine months ending December 24, 2013.
The expected swing to profit comes on the back of improving sales. Like-for-like sales were up 5.7% for the year to date and online sales increased 10.9% in the same period.

Dreams has closed a net 12 stores since being brought out of its administration last year. It now has 160 shops trading, including seven relocated stores and three new shops.

The relocated stores have been halved in size from 13,000 sq ft to 7,000 sq ft and Dreams chief executive Mike Logue said the smaller stores have "seen sales either hold or improve".

Logue told Retail Week: "I believe you can have too much choice, it is confusing for the consumer and they get frustrated. I believe you need a much more selective choice".

The average Dreams store is now 9,000 sq ft and Logue said the retailer is exploring options for how it can use excess space in stores of more than 7,000 sq ft.

One option includes introducing a sofa proposition. Logue points out the retailer's franchise business in Northern Ireland has a retailer called Sofatime operating on its mezzanine floors.

Logue says sofa beds are an "opportunity" and would consider selling carpets because he believes the Dreams brand could be extended into other areas to create a Dreams Home proposition.

Dreams is also introducing more technology into stores including touchscreens in the 60 stores it has overhauled, which have recorded an 18% jump in sales compared with the rest of the store estate since being refurbished three months ago.

The retailer is exploring other areas of opportunity as it seeks to complete a turnaround after three years of losses.

Logue said: "We have a long way to go to get this business back to a place of strength and I feel very confident about the next three years."

For the nine months ending December 24, 2013, Dreams posted a £9.6m operating loss on sales of £151m.

That figure excludes the peak trading period but still includes the effects of administration.

Dreams' operating loss included exceptional items from a restructuring of back- office operations, including redundancies after Sun European brought Dreams out of administration last March.

The company has not turned a profit since 2011, when it posted EBITDA profits of £2.2m at a time when it had 268 stores.