John Lewis sales rose 4.1% last week but the fine weather had contrasting effects at the department store and its sister retailer Waitrose.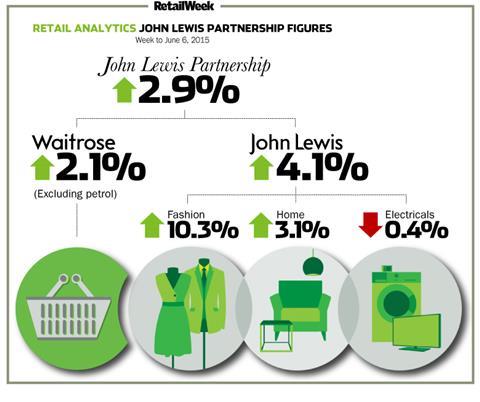 The weather prevented sales at the department store giant growing even further, as warmer temperatures towards the end of the week resulted in a "quieter" weekend of trading.
John Lewis said overall sales were up 4.1% to £73.68m for the week ending June 6 as online sales increased 21% year on year.
Outdoor living continued what bosses called a "fine run" as sales jumped 37% compared with the same week last year.
John Lewis brand and buying director Paula Nickolds said it was also a "pleasing" week for fashion. Sales rose 10% on the year, driven by women's accessories and beauty, which saw a 14% uplift. Sunglasses and sandals also proved popular as shoppers continued to stock up their summer wardrobes.
Waitrose reported the change in weather benefited its sales, which grew 2.2% year on year.
As rain gave way to blue skies towards the end of the week, products associated with summer living flew off the shelves – ice cream sales rose 8% and frozen fruit jumped 26%.
Garden gatherings, barbecues and picnics saw sales of prepared salad bowls rise 43% on the year, as soft fruit saw an 11% uplift and dips and crisps rose 12% and 9% respectively.
Barbecue meat sales over the weekend rocketed 114% compared with the previous week.