Amazon has fired the starting gun on its Black Friday Sales extravaganza after launching cut-price deals on thousands of products.
The US etail giant has launched a week-long Sales bonanza with 7,000 deals available on its website from today.
Amazon shoppers will have the choice of new deals every 10 minutes throughout the week, including big-ticket items like its Amazon Kindle and games consoles such as the Xbox One.
The lightning deals will see some offers only available for short periods of time, while Amazon Prime members will be able to see the promotions 30 minutes ahead of other consumers.
The etailer will also have a variety of 'Deals of the Day', where certain products will be available at a knockdown price for one day only, rather than across the week-long sale period. Independent retailers selling via Amazon's Marketplace will also take part in the sales extravaganza for the first time.
Among its biggest deals are the £300 discounts being offered on Stührling women's watches and a rowing machine reduced by £250 to £1,049.
Black Friday reservations
Amazon, which is credited with bringing the Black Friday phenomenon to the UK alongside Walmart-owned supermarket giant Asda, sold 64 items per second and 5.5m products in total on Black Friday last year.
And three quarters of consumers planning to make a purchase on Black Friday this year will buy from Amazon, according to a consumer poll by ICM Unlimited.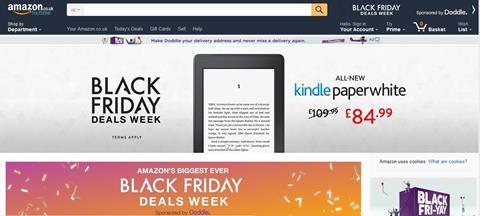 But despite Amazon's success, the promotional frenzy has been met with a mixed response from retailers. John Lewis boss Andy Street and Home Retail chief executive John Walden are among the high-profile names who have voiced concerns that Black Friday shifts sales forward rather than creating new revenues and creates uncertainty around Christmas trading.
Despite helping to bring Black Friday to the UK, Asda has already stepped away from the bonanza and will instead offer seasonal price cuts throughout December and into the new year after investing £26m into slashing prices.
Last year, the supermarket was caught up in negative media surrounding the event as shoppers were filmed fighting over heavily discounted flatscreen TVs in its stores.
Its supermarket rival Tesco, which had to call police to several stores following similar scuffles in 2014, will open its Extra stores at 5am instead of midnight to allow staff to prepare for the rush of bargain-hungry customers.
Amazon's online rival Argos has already experienced an increase in demand and its website crashed under the strain on Friday as it kick-started its 12-day Black Friday Sales event.
Sales on Black Friday are expected to hit £966m, up from £810m last year. Spending across the rest of the weekend and including Cyber Monday immediately afterwards is expected to take total revenues over the period to at least £2.2bn, according to analysts at Panmure Gordon.