Around 9 million bargain-hungry Brits are set to log on to eBay's UK site on Black Friday as the online marketplace prepares for a sales rush.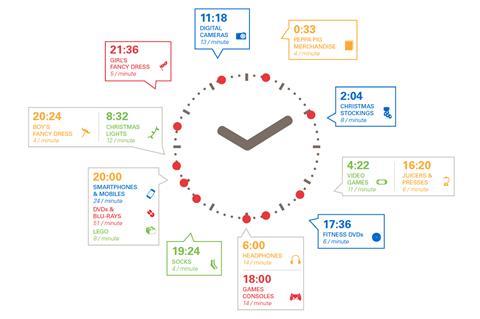 EBay is predicting that the promotional frenzy will drive up customer numbers and is preparing for half of its usual weekly traffic to visit its UK marketplace during Black Friday.
EBay said it would normally attract 18 million visitors to its British site during a regular trading week, but it is set to be bombarded with around 50% of that traffic within a frenetic 24-hour period alone. It estimated shoppers would purchase 25 gifts every second on Black Friday, with two-thirds choosing to shop via a mobile device.
Open all hours
The prediction came as the online marketplace revealed Britain's "all-hours" approach to Black Friday shopping, after four items of Peppa Pig merchandise were sold per minute at around 12.30am during the Sales extravaganza last year.
British consumers also used the early hours of Black Friday 2014 to snap up Christmas stockings, with eight being sold in one minute at 2.04am, while 11 video games were sold at 4.22am. Headphones were snapped up at a rate of 14 pairs per minute around 6am last year.
But shoppers waited until later in the day to purchase games consoles, which sold at 14 units per minute at 6pm, and smartphones, DVDs and blu rays, all of which proved most popular at around 8pm.
Boosting smaller retailers
This week eBay is expecting more than 50% of its top deals to be sourced from its community of 200,000 small British businesses selling through the online marketplace. Little-known retailers will have their profile boosted by listing their daily deals alongside the likes of Argos, Dyson and Zavvi.
EBay UK vice-president Tanya Lawler said: "We're giving an even higher profile to our seller community during one of the busiest shopping periods of the year. Over 9 million UK shoppers are expected to visit us on Black Friday alone – and we've put small businesses front and centre with that audience."