Four distinct consumer groups have emerged from the pandemic and they will influence spending for years to come. Retail Week's new report, launched this week, reveals who they are.
When the world came to a grinding halt in March 2020 – the first time the UK went into official lockdown – two key things happened that changed the way consumers tick.
Firstly, that great pause gave them time to reflect on how they lived, what they bought and what they wanted for their futures. Secondly, that unprecedented disruption jolted other consumers out of their comfort zones, hurtling them into new experiences.
In this report, Retail's New Consumer Personas, produced in association with Railsbank, we introduce you to four distinct consumer groups identified by Retail Week, explore which retailers are already winning them over and ask what they mean for the evolution of online and offline experiences. So, who are they?
Digital Arrivals
Figures from business data and intelligence firm Statista reveal that UK internet retail sales, as a percentage of total retail sales, reached a giddy high of 37.8% in January 2021, up from the more standard 19.1% in March 2020.
Statista data shows internet retail sales were still at 27.1% of total retail sales in January 2022. This shows that a great number of consumers have decided to keep shopping online, awakened to the convenience, choice and product availability that ecommerce offers.
Internet retail sales were still at 27.1% of total retail sales in January 2022
These shoppers are the Digital Arrivals. Many have limited experience of shopping online, preferring the physical shopping experience pre-pandemic, the environment and the ability to touch and feel products and talk to store staff, without having to learn how to navigate search engines, websites and new technology.
This group typically – though not exclusively – includes older consumers who are less au fait with ecommerce and more used to browsing and buying in shops. They want easily navigable websites with friction-free user journeys. But that is just the tip of the iceberg.
Subscribers
The subscription market wasn't created by the pandemic, but it's a prime example of green shoots leading to fast growth.
Royal Mail's UK Subscription Box Market report, published in June 2021, revealed that the sector had more than doubled in size in three years and that consumers across the UK spent more than £1.4bn on subscription boxes in 2020 alone, with fulfilment providers delivering more than 88 million to customers across the country.
Royal Mail forecasts that the UK subscription box market will be worth £1.8bn by 2025
It reported that 27.4% of UK consumers were currently signed up to a subscription box service, either for themselves or on behalf of someone else. Furthermore, Royal Mail forecasts that the UK subscription box market will be worth £1.8bn by 2025.
Subscriptions have been particularly popular with the young, with 52.1% of 25- to 34-year-olds signed up to at least one such service, according to the Royal Mail data, which was based on research with 2,000 UK shoppers. This compares with just 11.7% of 55- to 64-year-olds and 7.6% of over-65s.
Ethical Consumers
This group of consumers straddles age groups. It includes Generation Alpha (those born after 2010) and Generation Z (those born between 1995 and 2009), who have been inspired by the likes of climate activist Greta Thunberg and the #MeToo and Black Lives Matter movements.
Consumers spent almost £61bn on ethical products and services in 2020 – a rise of 30% from 2019
It also includes millennials and boomers who have watched documentaries on plastic pollution and the climate crisis and left their desks to join their younger peers on marches or, crucially, switched the brands they shop with and the products they buy to more sustainable options.
Ethical Consumers want products produced, marketed, sold and delivered in a way that aligns with their environmental and social values.
The Co-op's Ethical Consumerism Report, released at the start of 2022, showed that consumers increasingly turned to plant-based foods, secondhand clothes and furniture, and greener gadgets during 2020 (the year for which the most comprehensive data was available). It found that consumers spent almost £61bn on ethical products and services – a rise of 30% from 2019.
Thrill Seekers
Barely a day goes by now where you don't read about non-fungible tokens (NFTs), the metaverse and retailers entering the virtual world, from sportswear giants Nike and Adidas through to department stores such as John Lewis and Selfridges, as well as luxury brands including Dolce & Gabbana, Gucci and Givenchy.
Thrill Seekers tend to be younger consumers in the digital space, aged under 25, who have never known a world without the internet or smartphones.
Technology is simply second nature to them and they expect the retailers they interact with to be able to serve them in the channel they want – whether that is online, in store or within the metaverse.
Certainly, some of the world's biggest tech players are spending big, most notably Facebook, which has invested $10bn (£7.6bn) over the past year and even changed its name to Meta, while Microsoft is looking to spend almost £60bn on games developer Activision Blizzard.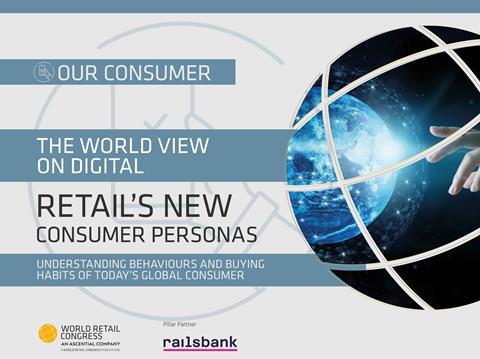 To read more about these groups, download your free copy of Retail's New Consumer Personas today. You will discover:
Who the Digital Arrivals, Subscribers, Ethical Consumers and Thrill Seekers are
How to win their spend within digital spaces and what they want from ecommerce
What they are looking for from store experiences now and the investments needed to achieve it

Railsbank's Open Banking Platform and APIs empower financial innovators to create amazing financial services products and experiences for their clients.